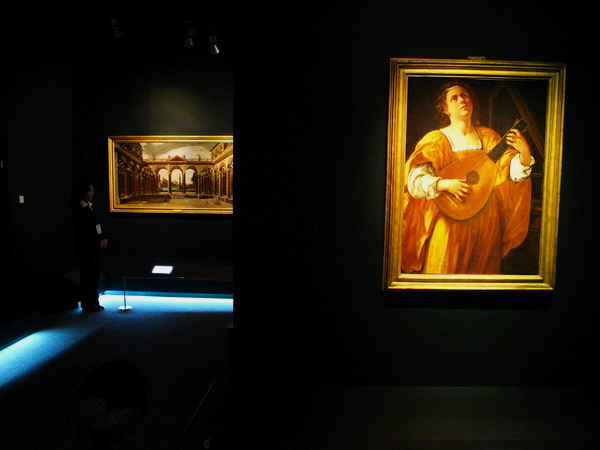 The exhibition "Rome 17th Century: Towards Baroque" at the National Museum of China. Photo by Jiang Dong/ China Daily
"Rome 17th Century: Towards Baroque", an exhibition that has opened at the National Museum of China, is a display of paintings, sculptures and handicrafts that serve as testaments to Rome's glory as the birthplace of the Baroque movement in the 17th century.
Paintings by such masters as Carracci, Caravaggio and Bernini from a dozen Italian art institutions also showcase Rome as the artistic center of Europe at that time.
The exhibit, which runs until next February, is just one of the many highlights in NMC's calendar this year.
Upcoming shows include a grand presentation of 300-odd relics of the Silk Road by the State Administration of Cultural Heritage. Most are national Grade One artifacts, spanning from the Warring States Period (475-221 BC) to the Qing Dynasty (1644-1911 AD).
Among them are two Russian art exhibitions. Opening in September, one show will center on War and Peace author Leo Tolstoy's private life, thoughts and artistic achievements, as well as his connections to China.
A show in December will encompass 52 portraits, landscapes and history-themed paintings of the Society for Traveling Exhibitions in the 19th century.
NMC was ranked as the third most popular museum in the world in 2013, according to a report recently released by the international nonprofit Themed Entertainment Association.
The Beijing museum enjoyed a 38.7 percent increase in visitors last year, the biggest out of the world's top 20 museums, including the Louvre and American Museum of Natural History.
NMC received about 130,000 visitors to the recently concluded "Ten Masterpieces", an exhibition that celebrated the 50th anniversary of Sino-French diplomatic relationship.