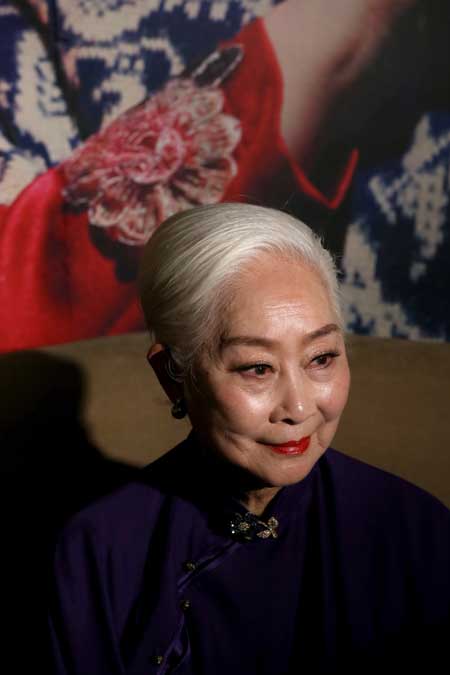 Lisa Lu, 87, will play the female lead in A Dream Like a Dream, Stan Lai's eight-hour stage epic, for the upcoming Christmas season. [Photo by Jiang Dong/China Daily]
Spanning two continents and more than half a century, Lisa Lu's career is the legacy of an icon. When she reprises the leading role in A Dream Like a Dream at the end of 2014, she will bring to the stage a lifetime of savoir faire, writes Raymond Zhou.
When Lisa Lu walks into a room, you instantly realize why some say youth is overrated. Lu, born in 1927, commands attention without a single word or dramatic gesture. Her presence alone inspires awe and admiration, even from people who do not know who she is.
Lu is Chinese-style elegance personified. She is always immaculately dressed and her silver-white hair stands out in an environment where everybody wants to look younger by tinkering with the color of their hair. She smiles at everyone and speaks Mandarin with a diction so clear and melodious and a rhythm so mesmerizing that she seems to have hailed from the golden age of old Beijing.
It is not just seniority that makes Lu a legend. Who in the Chinese-speaking world can claim the kind of career longevity that she has? Who has had the honor of appearing in movies with such illustrious names as Marlon Brando, Henry Fonda and James Stewart? Who has the definitive portrayal - make it portrayals - of Cixi, the woman who shaped modern China?
"You're a good actress," Brando told Lu on the set of One-Eyed Jacks, a 1961 Hollywood film. "You have a simplicity and an innocence to your acting, and don't let Hollywood change you."