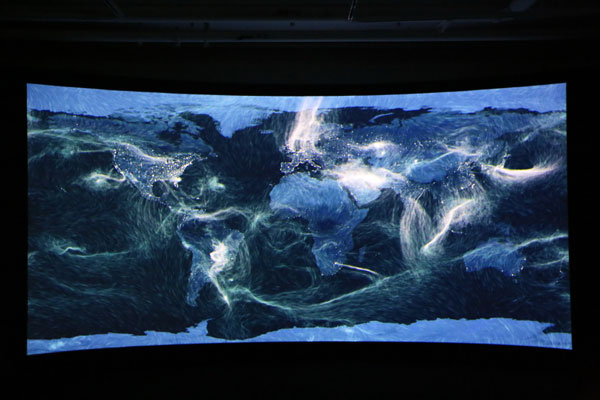 French artist Maurice Benayoun brings his work Emotion Winds.[Photo provided to China Daily
A new media art exhibition at K11 Art Mall in Shanghai features a new wave of Chinese and French digital art.
The exhibition, Metamorphosis of the Virtual 5+5, comes on the heels of the highly successful showing at K11 Art Mall of Master of Impressionism - Claude Monet.
The new exhibition offers a glimpse of today's art and the future, says Adrian Cheng, founder of K11 Art Mall and chairman of K11 Art Foundation. Metamorphosis features five artists and artists' groups from France and five from China. Curator David Rosenberg is from Paris but has rich experience working with Chinese artists.
Cheng, who came up with the idea for the exhibition, saw a piece by Pia Myrvold titled Video Wall in Venice and was inspired to hold a new media art exhibition. He then brought in Rosenberg to help make the exhibition happen.
Myrvold, 54, was born in Norway and now spends her time living in Paris and New York. Her work on the exhibition at K11 is an expansion of Video Wall - an abstract 3-D animation project that she started in 2010.
"In the contemporary art scene, there is very little new-media art at present. I want to try and make a difference about it," Myrvold says.
She believes new-media art should be the main arena for contemporary art because "everyone is using new media now, in the sciences, economic, medical sectors. Most sectors are driven by digital developments, improving the world in so many ways".
The Monet exhibition attracted more than 300,000 visitors, and made K11, the new art mall, a big name in Shanghai. People have high expectations so "we can only present the best of artworks", Cheng says before the opening of the show.