Look this way, it's the Peace duck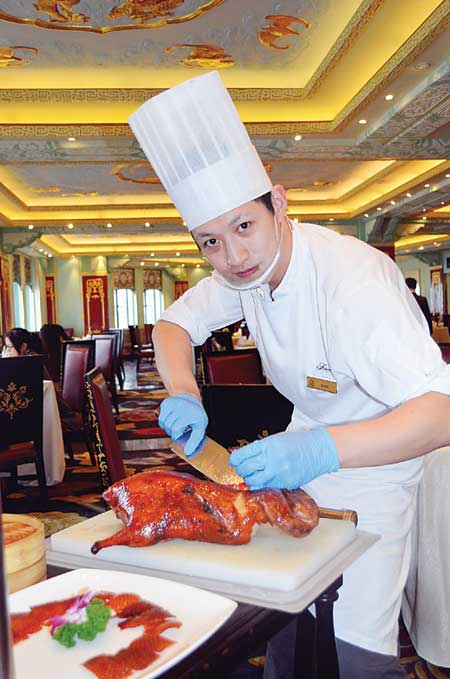 THE GONGFU CHEF: Swashbuckling chef Sanji slices his succulent duck with rhythm and skill. [Photo provided to Shanghai Star]
Almost every visitor to China must have his duck and eat it. In Beijing, it's the Peking duck in all its ritualistic glory, but in Shanghai, it's an experience with style, gongfu style to be precise. Pauline D. Loh applauds a very special performance.
He is an ex-People's Liberation Army soldier and that probably partly explains his obsessive-compulsive behavior in perfecting his slicing skills.
Chef Sanji holds court at the Dragon Phoenix Chinese Restaurant at Shanghai's iconic Fairmont Peace Hotel, and delivers a spectacular performance every time someone orders a roast duck.
"We call it the Peace duck, not a Peking duck," the young lady in public relations proudly quips. Indeed, what's in a name when you can sit back and enjoy the sight of Sanji skillfully skinning the duck while executing what I would call his "gongfu moves"?
The roast duck is wheeled before the table, and Sanji takes a bow before getting on with the job. He adopts a gongfu stance and then starts slicing the skin off the bird with precise and graceful moves of his very sharp cleaver.
Before you even know it, the first perfectly plated crisp duck skin is on the table, ready to be dipped into the sweet bean sauce, and wrapped with fine slivers of scallions, cucumber or radishes.
In season, the chef sometimes surprises guests with julienne of mango or hami melon, perfect fruity foil for the gamey bird. This is definitely more than just a Peking duck.