Elegant duck brings high note to Haidian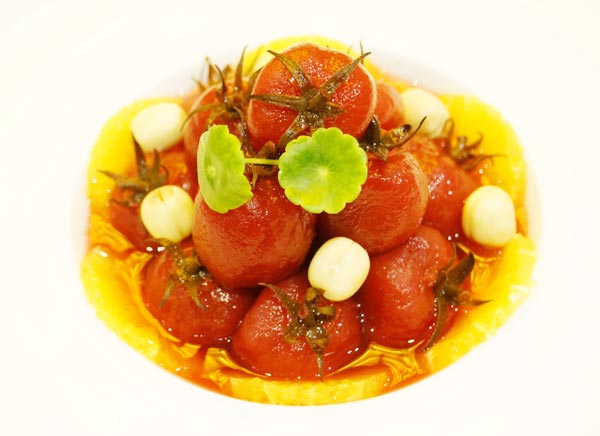 The peeled cherry tomatos are a popular appetizer at Xihe Tung Lok restaurant in Beijing. Ye Jun / China Daily
At a time when many high-end eateries in Beijing face declining business, the recent opening of Xihe Tung Lok shows the owners' confidence in themselves.
Xihe's chain of Chinese restaurants has been quite successful. Zhang Jun, general manager of the restaurant group, favors locations in high-end shopping malls, catering to shoppers who are willing to spend and who are not so affected by the economic decline.
However, the new location on Fuxing Lu in Haidian district gives the restaurant a different advantage: There are not so many restaurants in this price range in the area.
It is the second cooperation between Xihe and Tung Lok, an influential Singaporean food group. The first one, Humble House Xihe, opened recently across the city in Parkview Green.
At Xihe Tung Lok, one can see a bigger emphasis on Chinese dishes more familiar to local customers. The top three dishes here, according to the menu, are Xihe's famous Peking roast duck, braised fish maw in broth, and Zhang's pork meatball.
The duck is one of the best in Beijing. The skin is very crispy, the duck meat quite soft. There is a rotating plate with a big range of sauces to go with the duck. Apart from the usual shallot slices, cucumber slices and brown sauce, look for blueberry jam, onion and popping candy to go with the duck.
The menu has plenty of other tasty items. A good cold appetizer: a jelly made with three ingredients - mashed Chinese yam, pumpkin and purple sweet potatos - is served beside peeled cherry tomatos and small, flavorful yellow fish. The avocado salad in a hand roll is also worth trying.
Quite a few dishes employ Western cooking methods. A mushroom "sashimi" for example, uses Italian balsamic vinaigrette to create an interesting and delectable dish. Another dish grills and serves US Angus beef in an iron wok with vanilla.
The menu also offers a few tasty entrees bearing the mark of Tung Lok: Bak Kut Teh, Singaporean style chili crab and curry rice noodles.
The cooperation between the two companies is also reflected in the interior decor. Xihe Tung Lok has elegant green soft-cushioned seats and sofas. Private rooms are decorated with Chinese paintings in wooden frames. Both Chinese and international guests will feel comfortable in the ambience.
IF YOU GO
Xihe Tung Lok, 5/F Capital Mall Crystal, 51 Fuxing Lu (Road), Haidian district, Beijing. 010-8819-7502.
Average spending per head: 80 yuan ($13).
Recommended: Peking Roast Duck, Avocado Salad Hand Roll, Pork Meat Ball with Rice.