Delightful French luncheon buffet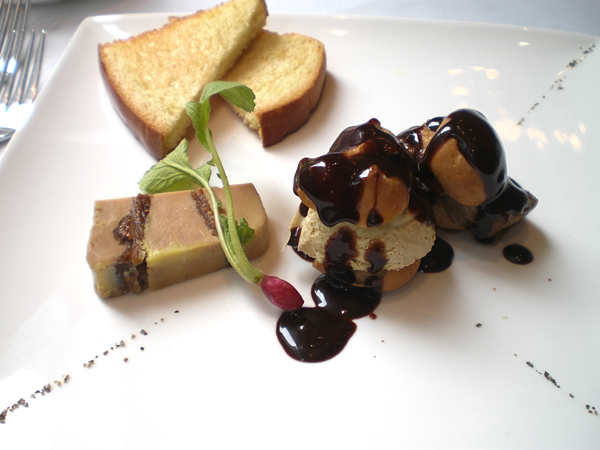 The foie gras trio. [Photo by Donna Mah/For China Daily]
The weather is getting cooler in Hong Kong and it's now quite pleasant to walk around outside even though wearing a jacket. 'Tis the season to eat, drink and be merry, and 'tis also time to enjoy a glass or two of the Beaujolais Nouveau with a good French meal.
Some may recall the charming Chez Patrick restaurant at its former location on Peel Street in Central. The restaurant is now located in Wan Chai in the Garden East building on Queen's Road East and my dining companion and I were happy to be dining there on a lovely, sunny winter's day.
The restaurant is located on the second floor of the building and is blessed with lots of windows providing good natural light. The dining area is not large, but one doesn't feel cramped either. Founder and executive chef, Patrick Goubier, was on hand to welcome guests and to help them make their selections.
At lunchtime, a buffet is laid out on the bar with a varied and beautiful selection of small bites, salads and desserts. We were overwhelmed with the number of choices for lunch. There is the lunch buffet for HK$168 ($22), or HK$268 with a main course (includes the dessert buffet); the executive menu with two-courses for HK$250, or three-courses for HK$320; and a special Beaujolais Nouveau menu with two-courses for HK$240, or three-courses for HK$310. All menus include coffee or tea.
A few of the highlights from the buffet include the pork snout salad (Lyon), the braised beef with black truffle and Tete de Moine cheese, nachos (with homemade potato chips rather than tortilla chips), fresh goat's cheese in a glass, and egg mimosa. A surprise offering was the bitter melon salad which is just the right way to include this vegetable as part of a French meal. There was also a fresh and crunchy Vietnamese salad made with slivers of assorted fresh veggies tossed in a tangy, citrus and slightly spicy fish sauce, "because my wife is from Vietnam", says Patrick, who hails from Lyon.
On the menu, it states clearly that the kitchen is happy to accommodate any dietary restrictions. Perfect. I had recently learned that I needed to restrict my diet for no less than eight weeks and Patrick was happy to listen to my lengthy list of "cannots". In the end, I sampled a few items from the buffet table (the wheat-, corn-, spinach-, and red wine-free ones) and then chose a starter and main from the Beaujolais Nouveau menu.