French wine dragon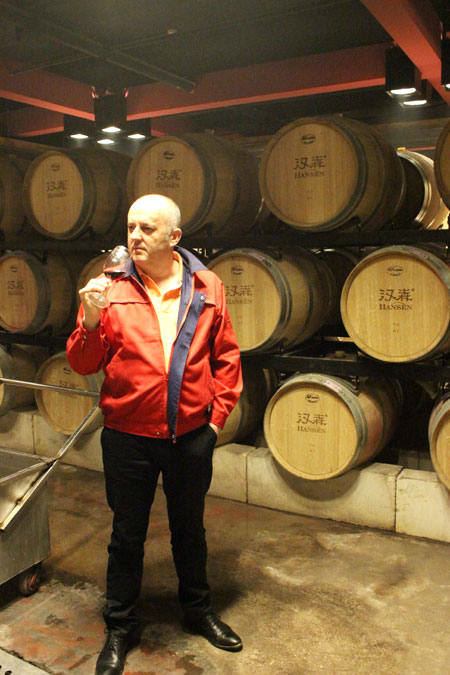 Paumard is a veteran winemaker in the Inner Mongolia autonomous region. [Photo by Wang Kaihao/China Daily]
A vintner is on a mission in western China's desert. Wang Kaihao reports in Wuhai, Inner Mongolia.
Holding a glass of red wine and wandering in the underground cellar packed with more than 1,600 oak barrels, Frenchman Bruno Paumard stops from time to time to sniff and sip. He touches the barrels gently, as if caressing his baby.
"Oh, what a nice wine," he murmurs.
The 49-year-old winemaker at Chateau Hansen in the Inner Mongolia autonomous region's Wuhai didn't expect that his first visit to China in 2005 would make him immediately decide to settle down in the country.
"It is all for love," he says. "You know, I am French."
Paumard, then divorced for two years, wanted a new family.
He became a fan of Chinese film star Zhang Ziyi after marveling at Crouching Tiger, Hidden Dragon and was surprised to find many Chinese girls look like his idol when he visited Beijing to promote wines at the Year of France in China events. Still, he confessed to then being unable to clearly distinguish among Asian faces.
"There were Zhang Ziyis everywhere," he recalls. "And I found someone far away from me looked more like Zhang. I was watching her, and she walked straight toward me. It was like magic."
Paumard believed the woman was the one he was looking for.
He quit his job in France and began a wine distribution business in Beijing. The woman became his wife two years later, and gave him the Chinese name Fa Jiulong, which means "French Wine Dragon" because he was born in the Year of the Dragon.
"My life in France is great, but I'm not sure whether I should go back now," he says.
"People here are too nice to me, which makes me feel like being on another planet compared to when I'm in France."
He's mutually cordial.
He greets every worker at the winery in simple Chinese, even though he doesn't know all of their names.
Paumard's hometown of Angers in France's Loire Valley is a globally celebrated hub for top-level wine. He grew up near a vineyard and became a sommelier at age 15.
He later went around Europe to look for new opportunities and became a finalist in 1989 Best Sommelier of the United Kingdom competition.
When he returned to his hometown in the early 1990s, he taught wine tasting in a local school and became a winemaker. He was also one of few experts setting prices for wine auctions in France.
While his Beijing business did well, he decided to go to Wuhai in 2010 to take advantage of its terrain.
The city gets more than 3,000 annual sunshine hours and experiences big temperature differences between night and day, which are good for grapes.
However, Inner Mongolia's heavy drinking customs shocked him.
"People always cheer, saying ganbei (empty your glass) in honor of guests. If the ganbei I have in Beijing means drink one, in Inner Mongolia, maybe I'd have taken 10. But I am a good drinker. People often get drunk earlier than me."