Food with good karma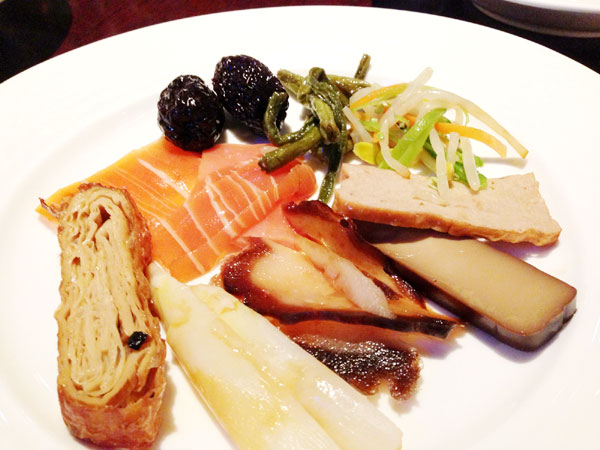 Savory platter with the "salmon", which is the only noticeable attempt by Jen Dow to mimic meat. [Photo by Cang Lide / China Daily]
Just across the old sin palace of the Paramount nightclub, and leaning against the side of the Jing'an Temple is a quiet vegetarian haven. Pauline D. Loh samples a meatless spread of green delights.
Shanghai in summer is humid and hot. Halfway through a tour of the city's historic but elegant Jing'an district, we felt the need to get out of the searing sun and find a refuge where we can sit and chill, preferably with a cup of tea.
The options were many, but our eyes are drawn to the muted wood facade of Jen Dow Vegetarian restaurant. Upon investigation, it turned out that there were several restaurants in the building, all under the Jen Dow banner.
Downstairs, there was a queue at the fast food outlet, and no seats to be had. The second floor is a "western" vegetarian restaurant but as the lift door opened, we saw a bistro setting and no diners, so we continued up.
Third floor is where the vegetarian buffet is served. We thought that was unique enough and it sounded absolutely interesting.
The ambience was cool, and our request for ice with our tea was smilingly met - always a good sign in China where ice is still a rare commodity at neighborhood restaurants.
But of course, Jing'an is not your usual neighborhood. It has the temple, it has the old residences of two famous Shanghai women - author Eileen Chang and actress Ruan Lingyu, and even late chairman Mao Zedong stayed around the corner while first mooting his plans for revolution.
It's also seen some saucy action in the past, and Shanghai gangs, their lovely molls and elegant songstresses in qipao were all regulars at the Paramount nightclub just across the road from Jen Dow.
Jen Dow Vegetarian is originally from Taiwan, according to the signboards, and it does explain the fondness for green tea or matcha in its desserts.
Did I start with desserts first? Well, it was hot, and the little sundae glass was filled with well-chilled green tea mousse buried underneath Nata de coco cubes and a generous topping of candied red beans. Very satisfying. And cool, and that's the beauty of eating buffet-style.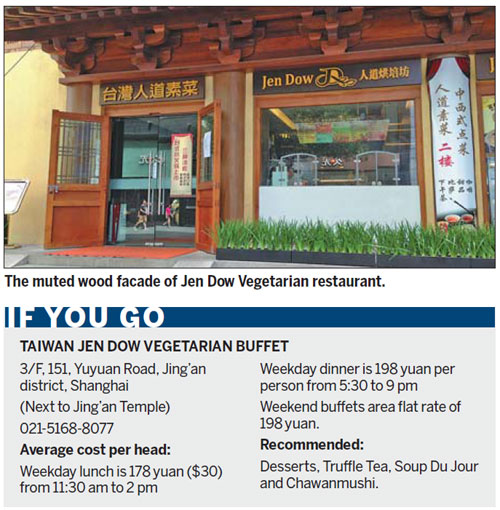 Nearest our table was the savory snacks bar, with a steamer next to it filled with stacks of chawanmushi and truffle tea in pots. The cup custards were delicious, scented with mushrooms and studded with gingko nuts. Didn't miss the meat at all.
Truffle tea is a new one, although with Chinese truffles now widely available, it was not a surprising item on the menu. The tea was light, with a couple of slices of truffles floating in the pot and served as a nice appetizer.
The soup counter offered cream of mushroom soup and Russian borsch, both pretty well flavored considering the mandatory absence of meat.
The spouse decided to have three bowls of borsch, but it was the hot buffet that impressed me with its colorful skewers of vegetables and tofu for hotpot, and a seemingly endless row of stir-fried vegetables including white asparagus, bamboo shoots, burdock, and all sorts of melon.
A Taiwan favorite, the silky gourd, took pride of place at this counter, simply stir-fried and still retaining its refreshing green sheen.
All the dishes were well presented with nothing of the pile-up in warmer dishes that characterizes most Chinese buffets. Jen Dow's buffet chefs take pride in their creations, and they show them off nicely on the buffet line, carefully garnished.
Husband came back with a selection of "cold meats" and I was very amused to see what, at first glance, looked like slices of salmon toro. On closer examination and at first taste, these prettily streaked slices were unmistakably konnyaku, the vegetable gelatin distilled from a root vegetable.
I must add that the "salmon" was the only noticeable attempt by Jen Dow to mimic meat, another fault of a lot of vegetarian restaurants.
Instead of stocking up on "mock" duck, fish or chicken made from gluten and other unmentionable additives, Jen Dow has the good karma to present vegetables as they are - powerfully adaptable ingredients that make some delicious dishes, with no need for artifice.
There was really too much to eat, and by the time the buffet ended, we were sort of staggering again, but happily so. We had gotten ourselves a good meal, a good respite and were recharged and energized to explore more of Jing'an.
And because we ate vegetarian, we were also feeling pretty virtuous. For a while, at least.