Shelling out for all-you-can-eat lobster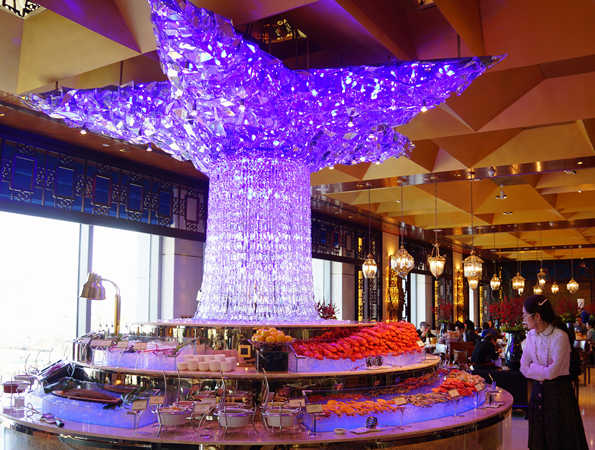 Auspicious Garden serves a free flow of Boston lobster. [Photo by Ye Jun/China Daily]
Many buffet restaurants in Beijing offer lobster, yet most of them set a limit for the expensive crustacean: one for each customer. But Auspicious Garden is an exception. The restaurant on the second floor of Pangu 7 Star Hotel Beijing serves a free flow of Boston lobster. In other words, you can eat as many as you want.
The restaurant gives the impression of a small and middle-sized buffet with high-quality food ingredients. Because of the stable quality of foods, and probably also because of the existence of joint ventures with high income around, it has always had very good customer flow.
This has enabled abundant supply of more than 100 items at the buffet, and the huge stack of lobsters has become a unique sight at Auspicious Garden.
The good thing about the restaurant is that almost everything is worth trying. Apart from lobster there are prawns, salmon, and other seafood. Fish and poultry are freshly presented and prepared on the spot at the grill station. Cantonese dim sum and roast meats are hot and tempting.
A shinny imported ham-cutting machine is another feature that differentiates Auspicious Garden from elsewhere. The dessert section is so vast it is impossible to try everything.
Business is so good that the restaurant has recently opened a third-floor dining area, linked to the original restaurant on the second floor by chic-looking stairs with glass steps.
With dark-red wooden chairs and tables, the third-floor is decorated as a high-end Chinese-style restaurant. It caters to customers who pay 580 yuan ($96) plus 15 percent for the buffet with free flow of wine. On the other hand, the second floor seats guests who pay 428 yuan plus 15 percent with free flows of soft drinks. The red wine served is Vinarte Corinzio 2010, a rather good-quality table wine from Sicily.
Customers on the third floor can order anything from the second floor and have them brought up by the waiting staff. Meanwhile, there are quite a few additional items for the third floor only. A chef prepares Angus beef on the spot on demand. Cantonese soups and Korean seafood soups are prepared at open stations.