Restaurant gives away congee to mark special day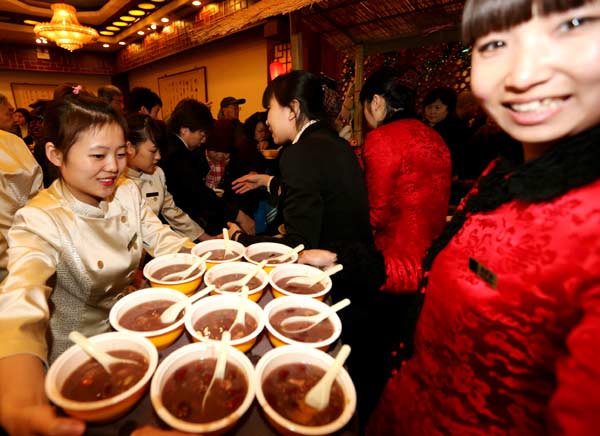 Restaurant staff serve "eight-treasure" congee to community members on Jan 8 at Quanjude Hepingmen Peking Roast Duck Restaurant. [Photo by Jiang Dong/China Daily]
Quanjude Peking Roast Duck Restaurant's Hepingmen branch gave away "eight-treasure" congee to residents in nearby communities on the morning of Jan 8. Famous crosstalk comedians Li Jindou and Fang Qingping hosted the event, greeting the residents and sharing congee with them.
The 8th day of the 12th month in the lunar Chinese calendar, called laba, falls on Jan 8 this year.
It is a Chinese tradition to eat congee made of "eight treasures" on the day to beat the cold, and to bring good fortune in the coming year. The congee is made with eight different ingredients, including red and black beans, lotus seeds, peanut, millet and rice. The date also marks the beginning of a series of celebrations leading up to Spring Festival, which falls on Jan 31 this year.
This is the 6th?year Quanjude's Hepingmen branch has given away congee on the day. For the restaurant, it is a chance to connect with the nearby community. For those who come to eat, many of whom are senior residents, it is a way to mark the occasion and get blessings for the coming year.
As in previous years, the restaurant also set up a tent to sell foods popular during the annual festival. Some of its signature items are a Peking roast duck hamper, braised pork elbow with brown sauce, braised duck giblet, buns with mashed red bean filling, and "thousand-layer" cake.
Quanjude has also introduced two set meals that can be taken away for Spring Festival. Both consist of Peking roast duck and the restaurant's popular specialties. Hampers cost 428 yuan ($70), 828 yuan or 1,268 yuan each.
Quanjude's festival tent also sells "eight items" steamed dim sum from Shandong-style restaurant Fengzeyuan, traditional Beijing dim sum from Fang Shan imperial-style restaurant, and tea from famous brand Zhang Yi Yuan.
Near Hepingmen subway station, No 2 Loop Line, Bldg 14, Qianmen Xidajie, Xicheng district, Beijing. 010-8319-3101