Steak in the heart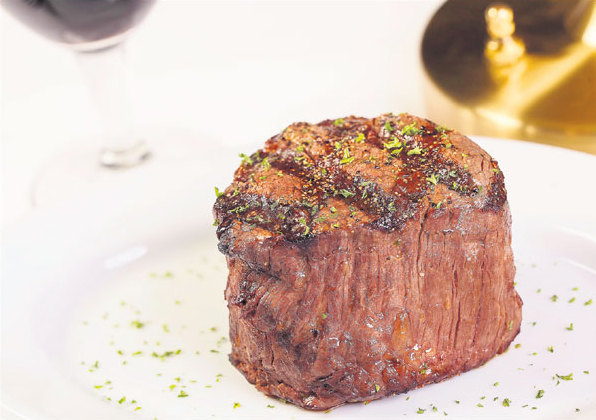 Beef filet is the signature dish at Ruth's Chris Steakhouse Shanghai. Photos Provided to China Daily
The debut of Ruth's Chris in China means meat lovers will never go hungry, Xu Junqian finds in Shanghai.
Eating at fine dining restaurants is sometimes not fine, but overwhelming, with difficulties over table manners, dress codes or the way to pronounce those peculiar French and Italian names on the menu. At Ruth's Chris Steakhouse Shanghai, however, the only thing that would overwhelm diners is the immense sense of southern US hospitality, beginning with over-sized portions for meat lovers.
Founded in 1965 by a single mother of two in New Orleans, the steakhouse opened this outlet on the historical Bund early in December, the first of four openings planned by the upscale steakhouse chain in Shanghai and Beijing. While the location and the breathtaking view are touted as the "sauce" of their signature steak, the restaurant takes more pride in its generous offerings of food.
"When you come to Ruth's Chris, please come hungry," Stanley Ko, president of the decades-old steakhouse, warned before the lunch kicked off.
I was a bit ashamed, like joining a marathon without doing enough to warm-up, or attending a black-tie party in a sweater, as the aftertaste of my breakfast still lingered on my palate.
The sense of guilt didn't last long, fortunately. The finishing touch of brandy from the French onion soup, our starter, quickly washed it away - and excited my taste buds for the meat feast to come.