Mario Batali's take on steak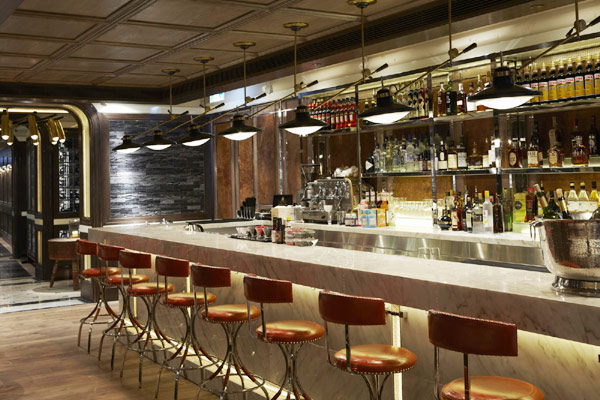 Carnevino delivers high-quality steaks in a warm ambience aided by marble, leather and wood. Photo provided to China Daily
It's not hard to guess a new Italian steakhouse from chef Mario Batali and business partner, Joe Bastianich, serves. The award-winning steakhouse from Las Vegas, Carnevino (carne - meat; vino - wine), has opened in Hong Kong in the heart of Central delivering its own dry-aged steaks in a warm ambience aided by marble, leather and wood.
The restaurant is in the same building as Lupa, another Mario Batali restaurant, but each has its own distinct charm and personality. Carnevino is a steakhouse where you can enjoy good food made from high quality ingredients and not feel like you need to be rolled out the door after your meal.
To start, the crudos - pesce crudo (raw fish) and carne cruda (raw meat) - are delicately flavored and light. The pesce crudo included geoduck clam with lime and espelette, which was sweet with a hint of citrus and spice. The Wagyu crudo with Apician spices is made with M-9 Australian Wagyu thinly sliced and evenly marbled, served with a mix of fresh herbs and dry spices. This is a unique dish with very soft texture and bold flavor.
I like radish a whole lot better now that I am an adult, and the sweetness of cooked daikon and the slight spiciness of cherry radishes are now welcome at any meal. Carnevino serves a radish salad made with a variety of fresh and pickled radishes, braised daikon, and dressed with a warm guanciale vinaigrette. Guanciale is an unsmoked Italian bacon made using pork jowl. When the salad is brought to table, the server grates some fresh horseradish on to it, which adds the familiar heat, but also some sweetness to the dish. Don't wait too long to eat this dish as the horseradish becomes bitter when exposed to air and heat.
We also had a dry-aged New York strip, which was simply seasoned with fresh rosemary, garlic, salt and pepper. The meat was tender and flavorful, having been dry-aged for about 70 days.
We also enjoyed our steak with a few side dishes including the guanciale mashed potatoes, charred long beans with salmoriglio, and creamed corn with lime salt. The mashed potatoes are made with brown butter and served with a soft-poached duck egg. The butter gives the dish a bit of a nutty flavor and the duck egg adds richness, making it a decadent version of one of my favorite side dishes. The beans and corn offered a bit of crunch and freshness to the meal.
The meat and the wine here are serious business. The wine is handpicked to complement the steaks and the sommelier is knowledgeable and more than happy to talk to you about what sort of pairing is ideal for the meal.
For more restaurant reviews, click here.