Bringing out the inner child
The surprise popularity of an installation art piece in the shape of a toy may reveal the deep longings of some people, but could also be a sign of a desire for light relief in the face of life's mounting pressures.
A giant yellow rubber duck that appeared in Beijing recently has been turning many heads and sending others scratching them, but why is there such a fascination with something so simple?
The Rubber Duck, as it is known in English, first popped up in Hong Kong's Victoria Harbor in May and has now landed in Beijing's Garden Expo.
Movie stars have been jumping at the opportunity for photos with it. The public has recorded and relayed every minutia about it. Even the legitimate press has been running nonstop coverage on it. Such treatment would have been the envy of even visiting royalties.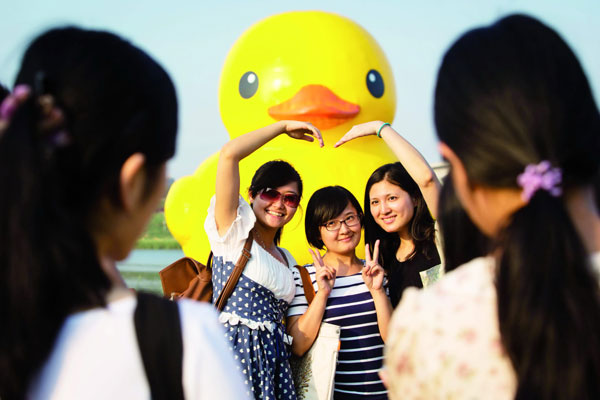 Tourists take pictures with the Rubber Duck, which landed in Beijing's Garden Expo on Sept 6. Mao Yanzheng / China Daily
Nicknamed "Big Yellow Duck" in Chinese, the inflatable novelty was masterminded by Dutch artist Florentijn Hofman, who created it in 2007 and has taken it to a dozen places around the world before reaching China.
The duck doesn't actually move from country to country. New ones, varying in size, are made locally for each place, so you won't spot a flying duck attached to a jumbo jet.
Hofman's inspiration is said to have come from a news story about a 1992 Chinese cargo ship that ran into storms on the Pacific Ocean and spilled a container into the waves. As many as 92,000 bathtub toys, including yellow rubber ducks, ended up flowing halfway across the globe.
But this is not the main reason for the Chinese obsession as the story was not previously widely known in China.
The association with a bathtub toy could be at the heart of its popularity. As many have explained, it is a reminder of their childhood. As such, it fulfills the artist's intention of "spreading joy around the world".
Taking a trip to see the Big Yellow Duck has become the reason for many family outings that include both the young and the young at heart.
As an objet d'art, the floating sculpture could be the most accessible of its kind. While traditional sculptures tend to be solemn and on pedestals and modern ones esoteric or off-putting, this one is endearing. It may not yield to a host of scholarly interpretations, but it invariably elicits a smile of recognition and mild astonishment.
The sheer size - 26 meters tall for the largest - and the bright color make it the center of attention anywhere. As a matter of fact, the one in Beijing's Garden Expo has been deemed "a tad smaller than expected" by some who made a special journey there.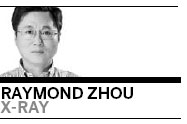 Size matters in China, a country where a mayor is ashamed to call his city a "big" one if it has no more than 5 million residents. If the name had not already stuck, some in China would not hesitate calling it "Medium-Sized Yellow Duck".
You see, since originality is not a forte in this case, size is truly important. For one thing, it is used to differentiate it from the flotilla of knockoffs in the nation's lakes and rivers. There has been debate whether others are allowed to float a similar rubber animal, in say a public park, without infringing on Florentijn Hofman's intellectual property rights. Some say, the guy copied it from a bathtub toy, why can't we do the same? What if we make some modifications about the size and shape? What if we call it by some other name?
When the one in Beijing made its debut, people noticed that its beak was somewhat different from the one in Hong Kong. The notion of copycat - or shall we say "copyduck"? - immediately came to mind.
The authorities quickly came out to explain that it was an installation error and ensured everyone the whole thing was properly authorized. Freed from that question, people have continued nitpicking, saying it is not fully inflated and resembles a starving duck.
The choice of the animal has contributed to its fortuitous fate. As everyone knows, Beijing is the birthplace of the Peking duck so why should the rubber kind not be a candidate for the oven, some say. When it deflated in Hong Kong, some quipped it looked like a roasted duck from Beijing. There is a running gag about what kind of cooking method will be used to make it fit into a local cuisine.
A whiff of gallows humor can also be detected from some of these witticisms. A short time ago, the country was gripped by the specter of bird flu and, as a result, poultry, together with its industry, was a major victim. If people can laugh about gobbling up a giant duck, it could be a sign that we are out of the shadows of the bird flu scare.
Then there is the figurative type. In Chinese slang, a "chicken" can refer to a prostitute and a "duck" a gigolo. So, the use of "duck" or "male duck" in describing a young man carries certain connotations. Of course you'd have to be physically robust for this line of work. If I'm not mistaken, the Rubber Duck has provided an opportunity for a few naughty ones to vent their female fantasy as evidenced by online photos of scantily clad pretty young things in erotic postures with the rubber toy; of course not the genuine one but smaller imitations fit for home consumption.
Excessive attention begets backlashes. There are already complaints about what some deem "a big fuss about nothing". An ad-hoc competition to create a caption for photos of the floating sculpture has a winner: "Look at these stupid humans!"
A euphoria of this magnitude bespeaks certain national traits. First of all is a need to be cheerful about something innocuous, something familiar presented in a slightly foreign form, something that cuts across demographic lines. Massive public installation art is not common in China. An artist who wants to drape a mountain in brightly colored cloth or float a million umbrellas above busy streets will probably never see his dream come true in China. But who can say no to an enlarged toy? As one commentator said, there is no political implication whatsoever.
I don't think many in China see the Rubber Duck as art. For them, art is stashed away from the milling crowd, in air-conditioned halls with stern-looking guards who would stop you from snapping photos. The right expression when facing art is solemnity, or so we assume. Here is a plaything that puts everyone into a playful mood, and to say you don't like it amounts to admission that you are a weirdo.
Finally, the Rubber Duck phenomenon can serve as a perfect illustration of herd mentality. When an innately trivial incident hits on a slow-news day, it becomes self-perpetuating and engulfs everyone in it. People feel compelled to be part of it or they'll be left out of water-cooler conversations. Like a tornado, it comes with sudden ferocity; but unlike a tornado, it will not leave anything disturbed.
Are people going to cherish their childhood memories more from now on? I doubt it. There will be another hot topic swirling through the nation, or there may be real news.
However, artists may take a lesson from this episode and ponder their relationship with the public. Do they want their art to be accessible to a large population, or do they want to preserve some distance to accentuate their stature? Maybe some would want to "pander" to the masses by presenting images or objects that bring out the child in everyone.