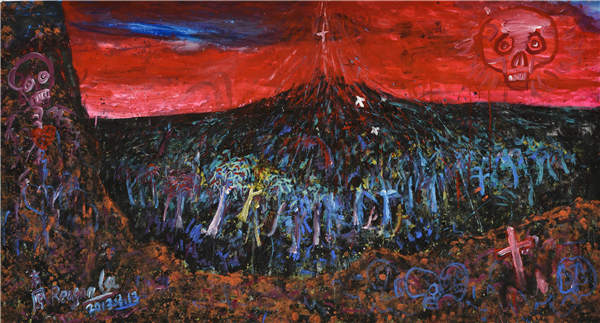 My heart is as Red as the Rising, 245 x 369cm, Paper Ink-wash, 2013. Photos provided to China Daily
Li Nanfeng (Reagan Lee)'s passionate and wild paintings combine Chinese ink art, African primitive art and New Zealand's indigenous art. He empowers his works with a strong male vibe, but not in a rude way.
Born 1966, Li graduated with systematic academic training from the Central Academy of Fine Arts in Beijing in 1990. He immigrated to Seychelles and then relocated in New Zealand 10 years ago. His life experiences on the three continents have greatly enriched his art vocabulary.
His paintings, however also speak for his criticism of extant orders and powers, which can be traced back to his works at school. He has only incorporated the impacts of globalization on people and society in his current creations.
Li's solo exhibition Melancholy Within the Cross is now at the Today Art Museum in Beijing until July 13.