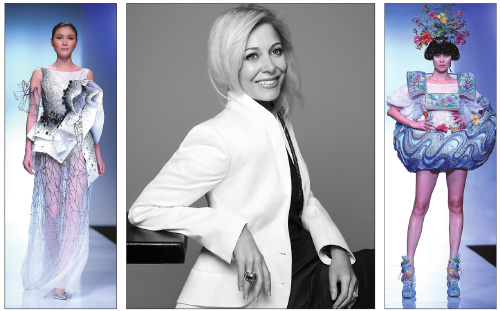 Nadja Swarovski (center) says Swarovski's special efforts to design jewelry pieces targeting Chinese consumers have helped with sales. Provided to China Daily
Austrian fashion house already has 245 stores in 71 cities across the country
Austrian crystal brand Swarovski's success in China is symbolic of a trend of female liberation in the country, observes Nadja Swarovski, fifth-generation heir to the business.
She recalls her first visit to China in 1992, when the city was full of bicycles and men and women in gray suits, an image in sharp contrast with how the city is today.
"The last time I visited, there were no bikes and no gray suits. I see it as a human revolution, and in particular a female revolution. The Chinese lady is allowed to wear a pink shirt and wear jewelry, and I think this is where Swarovski steps in," Swarovski says.
The confidence and luxury lifestyle Swarovski helped to bring to the modern Chinese women is just like the change it impacted on Western women centuries ago when her great-great-grandfather Daniel Swarovski founded the business in Austria in 1895.
At the time, diamonds were popular with aristocrats, but Daniel Swarovski famously said that every woman who cannot afford a diamond should have a crystal. It is a part of a revolution in mindset in which middle class women can enjoy fashion, and this trend is happening in China today.
"Swarovski's mission is to empower the customer, to make women feel good about themselves and express themselves. We know from studies that jewelry is the strongest means of expression. So if we can help women do this, we will be on the right track," she says.