Cool food that's slightly drunk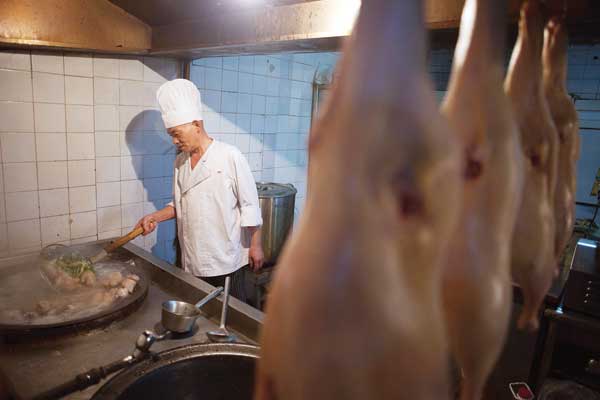 DRUNKEN MASTER: Chef Lu Yong makes drunken pork hock; drunken chicken and green beans are popular pickled snacks in summer. [Photo by Gao Erqiang/Shanghai Star]
For people who start to lose their appetite in summer, inventive Chinese cooks have many ways of spicing things up. Zao food, or food pickled in wine, is one popular method.
Zhuang Yuan Lou, located on Gubei Road, is a Ningbo-style restaurant that specializes in serving food pickled in wine.
Before my first taste of zao food, I wondered how it would be presented and imagined it would have a strong smell like stinky tofu or douzhir, the fermented bean drink that is only sold in Beijing.
To my surprise, all zao food is served in the same way as ordinary cold dishes, without any strange smell or look. The sauce contains a substance produced from distillers' grains, so food cooked this way has a slight flavor of alcohol. By dipping cooked food into the special zao sauce, once greasy food tastes cool, crispy and tasty.
In addition, materials cooked in the zao style range from green soybeans to pork knuckles and pig tongue, as well as chicken feet and soft-shelled turtle.
Every restaurant that serves zaohuo has its own special recipe, and Zhuang Yuan Lou's special gravy is made of distillers' grains together with more than 20 kinds of traditional Chinese medicine ingredients.
This renowned gravy is said to have been created one hot summer's day in the 1980s, when the chefs improved their technique and produced an icy-fresh and non-oily version of zao food, which made the traditional flavor more tasty and refreshing.
After the fresh food is cooked, it is marinated in a special gravy made two to three years earlier. The food will be ready after soaking overnight for between six and eight hours.