A table for one, please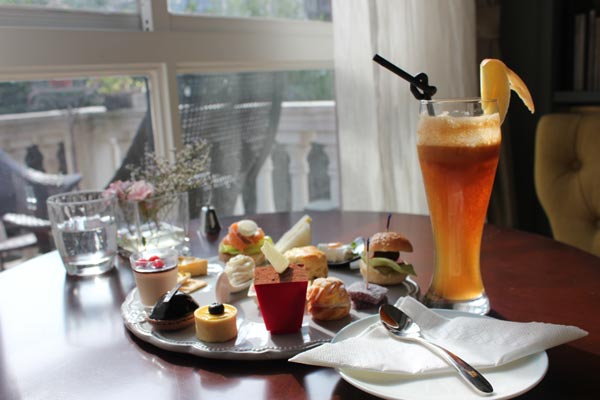 Solo diners can enjoy the special one-person afternoon tea at January Cafe & Restaurant with a novel. Deng Zhangyu / China Daily
Where to eat
Shanghai eateries that welcome solo diners
Ichininmae Sushibar
Address: 245 Madang Road, Huangpu district
Suggested dishes: Goose liver sushi ball, avocado sushi roll, rainbow sushi ball, salmon sashimi
Solo bill: 90 yuan ($14.58)
Yuangu Ramen
Address: Jiadun Square, 2088 Yan'anxi Road, Changning district
Suggested dishes: Tonkotsu ramen, special ramen, fried chicken
Solo bill: 40 yuan
January Cafe & Restaurant
Address: 101 Gaoan Road, Xuhui district
Suggested dishes: Afternoon set tea for one, January burgers, club sandwich, asparagus and shrimp soup
Solo bill: 120 yuan
Yang's Fried Dumplings
Address: 618 Xujiahui Road, Luwan district
Suggested dish: Fried dumplings
Solo bill: 12 yuan
Solitary diners used to be shunned in China's restaurants, but now eating alone is definitely on the menu.
Last month during a business trip to Shanghai, I was surprised and delighted to discover that the city's restaurants allowed me to book a table as a solo diner, and that some even operate special bar areas for unaccompanied customers that provide half-portion dishes and single-person menus.
Eating alone is not encouraged in China. It's common to see long lines of couples, families and groups of friends waiting outside restaurants at mealtimes. Finding a solo diner is as difficult as discovering a dinosaur.
In a country that stresses group activity, people are used to doing things in the company of others. They go shopping with friends, travel with their families, visit cinemas on working days in the company of their colleagues, and even invite others to accompany them and use the washrooms together.
When I asked my friends if they would consider visiting a restaurant alone, they all responded with a quick "no" and their expressions asked: "Are you insane?" If they absolutely have to eat alone, they take food home, rather than sit in a restaurant and endure the other diners looking at them as though they are oddballs.
I have often noticed my friends using their WeChat or Weibo accounts to find dining partners, and after my own experiences of eating alone, I can understand why.
When waiting in line, I kill time by looking at my cellphone, which gives the impression I'm waiting for some tardy friends or, more embarrassingly, that I've been stood up. Then I have to ask the waiter apologetically for a "table for one" and see the disappointment on their face.
I never expect a good seat by the window, because I often end up sharing a table with strangers or tucking myself into a corner seat close to a washroom or the kitchen. The pitiful, curious looks I attract from waiters and other diners make me wonder if the expression on my face reads: "I'm a poor leftover woman."
That's why I was surprised and pleased to discover that some restaurants in Shanghai positively welcome solo diners, and even provide books, magazines and comics to help unaccompanied people avoid boredom during the wait for their meal to arrive at the table.