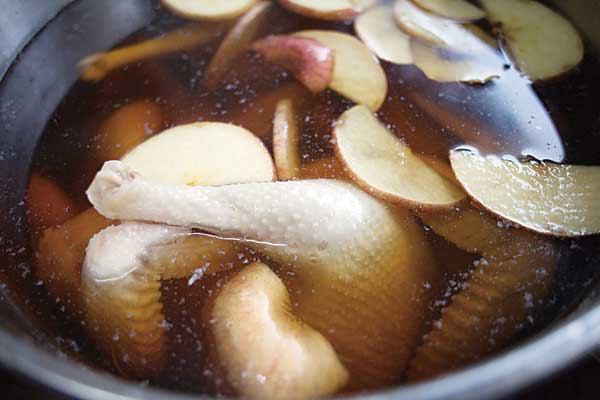 SOUP-ER SUMMER: Apples add a fruity twang to drunken chicken. [Photo by Gao Erqiang /Shanghai Star]
Don't judge a book by its cover or a cuisine by its name, or you may just miss out on the most delicious dishes Shanghai has to offer. Xu Junqian explains.
It's the terrible sauce. At least that's what its Chinese name loosely translates to. It is also the sixth flavor predominant in Chinese cuisine, after sour, sweet, bitter, spicy and salty.
Most of all, it is the defining taste of a Shanghai summer, just like ice cream or watermelon. Zaohuo, or pickled cuisine, refers to food that has been preserved in zaolu, "the terrible sauce", for a minimum of six to eight hours, depending on the temperature and the type of food used.
The sauce gains its Chinese name, zao, because of the fact that it is made from the grain dregs left over after rice wine is distilled.
"The sauce might be the only thing related to the Chinese word zao that is not terrible. In fact it is actually tasty and terrific," says Lu Yong, a veteran chef and expert brewer of zaolu.
Lu, a 60-year-old Shanghai native, has devoted almost all his career to the making and improving of zao sauce and the cuisine it inspires.
He witnessed its popularity peak late in the 1980s, when refrigerators were yet to be common in Shanghai. People young and old were willing to stand under the scorching sun and wait in long lines for a taste of the cool and refreshing pickled cuisine.
Originally appetizers that came from Zhejiang province, where the climate is humid and food needs preserving throughout the summer, the pickled dishes had pride of place on almost every Shanghai dining table during the 1980s and 1990s.