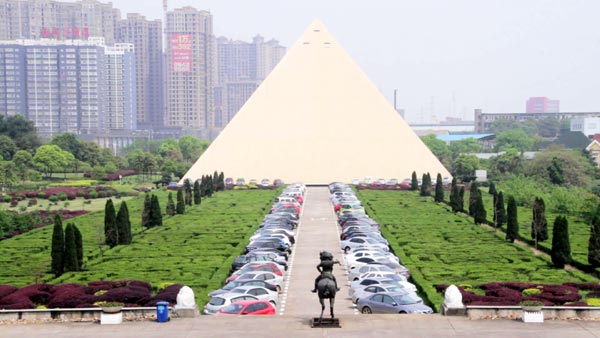 Zhang Yue's industrial park in Changsha showcases his open-minded attitude toward architecture. Photos provided to China Daily
A documentary depicts two divergent visions for eco-cities that stir uncertainties about the best way forward. Ming Liu reports from London.
In a scene in Ecopolis - a documentary about Chinese eco-cities - professor Eero Paloheimo is at his home in Finland, sitting in a room of light wood and simple furnishings. "We appreciate wrong things without a good reason," he says. "We don't appreciate useful and necessary things. Instead we appreciate the useless and unnecessary. Because it's luxury."
By 2015, one billion people will be living in Chinese cities, and Ecopolis - a 60-minute documentary in English, Chinese and Finnish - looks at the future of sustainable living in China. The film had its UK premiere last week, at London's Institute of Contemporary Art, where the screening was followed by a question-and-answer session with director Anna-Karin Gronroos and architectural writer and editor Herbert Wright.
Ecopolis follows two eco-city visionaries - Finnish professor Paloheimo and the Chinese electronics tycoon Zhang Yue. Both men dream of building an eco-city in China, but their two visions could not be more different.
Paloheimo's baby is Eco Valley - a beautiful, spacious city of low, cool buildings that will be designed into the lush hills of Mentougou Valley, in Mentougou district, Beijing, and which will be, according to Paloheimo, the new Silicon Valley for sustainable technologies.
Zhang's project is the lofty-sounding Sky City, a soaring, vertical metropolis of a building anchored on three tenets: to be the fastest built, the tallest ("to get your attention") and the most energy-conserving building in the world. Just as with Eco Valley, we are shown sophisticated 3-D renderings of these ideals - in Sky City's case, a gleaming 200-plus floors and outdoor and indoor farms that will feed 20,000 inhabitants. People will live, work and go to school in this self-sustainable elevated world, says the fast-talking maverick Zhang, who has even produced an elaborate, Soviet-styled "Warriors of Broad Sustainable Construction" advertising campaign, that is more akin to propaganda than promotion.