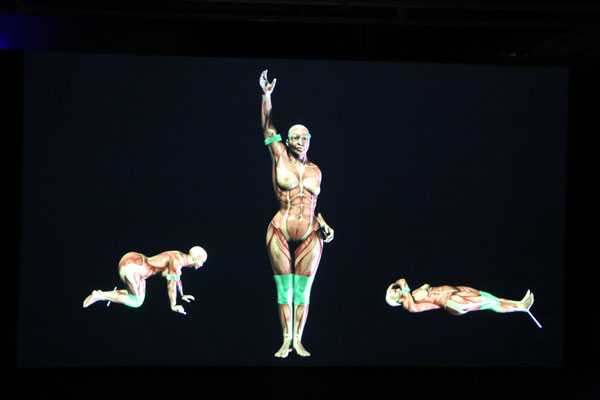 [Photo provided to China Daily]
Metamorphosis is part of a series of events to celebrate the 50th anniversary of Sino-French diplomatic relations, along with another exhibition of contemporary art from China, which K11 Art Foundation will be holding in Paris in October.
The show begins with a large interactive video project by Miguel Chevalier. "He is like the father of digital art in France," says Rosenberg.
Entering the oval, arena-like space of Chevalier's work, surrounded by computer-generated music and patterns, one feels as if he is "diving into the digital world", Cheng says.
Moving through the exhibition, visitors will see Pascal Haudressy's digital rendering of the eponymous human organ, Heart; Caravaggio's original Saint-Francois in Meditation; female artist Orlan's video projection of the Statue of Liberty flayed and in motion, Skinned Liberty; and Xu Wenkai's video installation featuring crystals and rocks.
"I want people to focus on the images I create," says the young artist from Shanghai.
The emergence of new media art is like the rise of a new continent, "but that doesn't mean the old world has to disappear", says Rosenberg, referring to the connection between new media art and traditional forms, such as painting and sculpture.
The new-media art show probably won't attract as many people as the Monet exhibition, but Cheng believes it is more important to create an "eye-opening experience" for audiences.
If you go
Metamorphosis of the Virtual 5 + 5
10 am-10 pm, until Aug 31.
K11 Art Museum, B3, Shanghai K11 Art Mall, 300 Huaihai Zhonglu (Middle Road), Huangpu district, Shanghai.
021-6440-0379.
Admission: 20 yuan ($3.20).