Bitter melon salad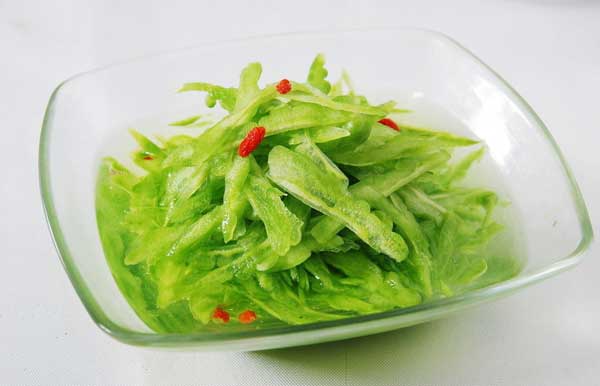 [File photo]
The bitter melon contains various healthy nutrients that can prevent diseases and enhance one's health.
It is rich in vitamin C and low in calories. Several Asian and African herbal centers have been using the bitter melon for a long time as a "cooling" ingredient.
Here is a simple and easy recipe that may help you beat the summer heat.
Recipe:
Serves 2
Ingredients:
Bitter melon 2
Red sweet pepper 1 sliced
Spring onion a small handful, chopped
Garlic chopped
Sugar to taste
Light soy sauce to taste
Vinegar to taste
Step 1: Clean the bitter melons.
Step 2: Spoon out the pulps.
Step 3: Chop the melons.
Step 4: Mix the garlic, sugar, light soy sauce and vinegar together to make the sauce.
Step 5: Bring the water to boil and add some salt and oil. Blanch the bitter melons for 15 seconds and cool them by cold water.
Step 6: Mix the melons with the sliced red sweet pepper and the sauce.
If you want to jazz up your dish a little bit, you can also add several drops of chili oil.