Entrepreneur Special: Spreading fruits of science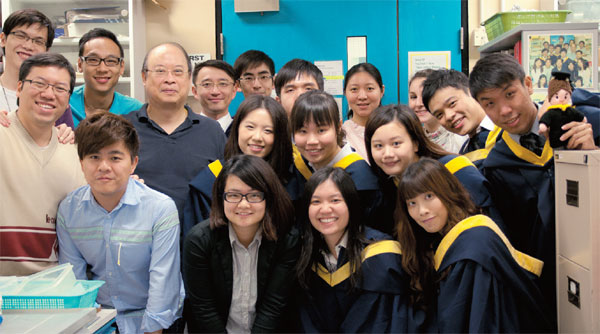 Wong and his R&D team. Most of them are HKUST postgraduates.
CEO brings skin treatment within reach of consumers
As both a scientist and entrepreneur in Hong Kong, Wong Wan Keung said his dearest wish is that "all the people in the world can enjoy the fruits of biological technology".
The board chairman of biotech company Gene-vinate Ltd is an expert in the emerging field. He and his team are devoted to biotechnological R&D and commercialization to promote healthcare and beauty.
The company, also known as GVN, has sharpened an edge in making human basic fibroblast growth factor, a pharmaceutical protein known as hbFGF that can rejuvenate the skin, at a competitive cost.
Staggeringly high prices hinder the widespread use of hbFGF. The price of 1 milligram of hbFGF was more than 20,000 yuan ($3,304) before Wong discovered new production methods.
The key to the patented methods is using genetic engineering to turn a common strain of bacterium into an incubator for this magic protein.
GVN also uses the approach to make another type of protein - human epidermal growth factor. The substance hEGF is abundant in babies and can prompt skin growth. Yet as people age, less hEGF is produced, which prolongs the skin rejuvenation cycle. As a result, skin becomes wrinkled and sagging.
"Using bio-engineering technologies, we can reduce the production costs of hEGF substantially to one-tenth of the original, while maintaining its purity over 99 percent," he said. "The approach will help to popularize hEGF use."