In the summer time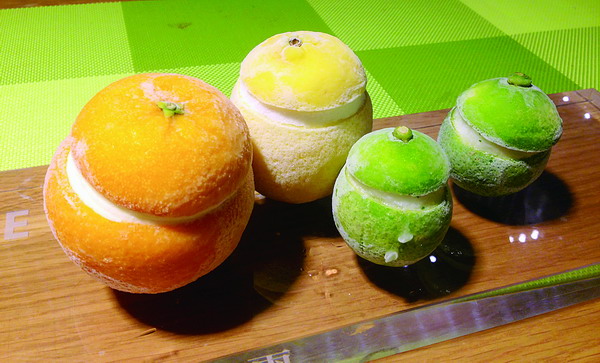 Citrus sherbets are carefully crafted from oranges, lemons and limes. [Photo provided to Shanghai Star]
As the humidity cranks up along with the temperature, Shanghai is sweltering under the haze of heat. Food writers Pauline D. Loh and Xu Junqian focus on desserts that will cool you down, and add some sweetness to the long, hot season.
Citrus sherbets
Café Liang, Jing An Shangri-La
Beautifully crafted from limes, lemons and oranges, these refreshing sherbets are always first off the famous confection carousel at the Jing An Shangri-La's lobby level Café Liang.
Their popularity is such that we had to call ahead just in case the sherbets were finished by the time we arrived for the photo shoot.
Created since day one when the hotel opened just over a year ago, the citrus sherbets have certainly withstood the test of time and consistently outshone the other frozen confections in the freezer carousel.
Made with the juices from the fruits, each and every one is as refreshing as the next. The oranges are the most mellow, with the lemons ranking second on the sour charts. It is the limes, though, with their unique pungent tartness that wake the palate and raise the eyebrows.
Judging from the way they were disappearing off the carousel, most of Café Liang's diners agreed with us.
Address: Café Liang, Jing An Shangri-La, 1218 Middle Yan'an Road, Jing An Kerry Centre, West Nanjing Road.
021-2203-8888