Smile, shove, snap: cameramen behind the street fashion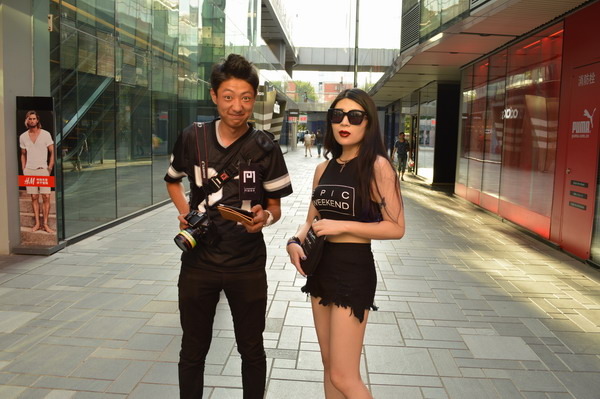 Street snap photographer Hou Zitong (L) and a model he photographed pose for a photo at Sanlintun, July 11, 2014. [Photo by Jiang Wanjuan/For chinadaily.com.cn]
The street is a place for everyone, from students and white collar workers to celebrities, to equally expose their beauty and understanding of fashion, and street snap photographers make sure they capture street fashion. Chinadaily.com.cn joined some of the photographers on the street during their work in Beijing recently.
Thirty-three-year-old Beijinger Yang Yang is a full-time photographer with P1, China's largest street snap platform, which specializes in collecting photos of fashionistas on the street.
Like many of his colleagues, Yang spends at least five hours each working day at shopping malls, lifestyle centers and tourist attractions, searching for stylish busy passersby. The newly married man loves the flexible, creative, and entertaining nature of his job.
"Most people are friendly and very glad to be photographed, but still a small number of people will decline." Yang said. "If they do not know about street snap, they are not sure what's going to happen next."
Although a very small number of photos are captured off the cuff, most street snaps start from approaching people and asking permission to take their photos. Yang and his colleagues will need to photograph 25-30 strangers during just one ordinary afternoon. There is no time to be shy.
Compared with veteran Yang, his 23-year-old colleague, Wu Jiaming, describes himself as "very shy". To improve his skills and overcome the fear of approaching strangers, the soft-spoken young man often asks his friends to help him practice in his free time.
After six months'of street snapping, Wu was glad that the job has helped him to become more confident and outgoing.