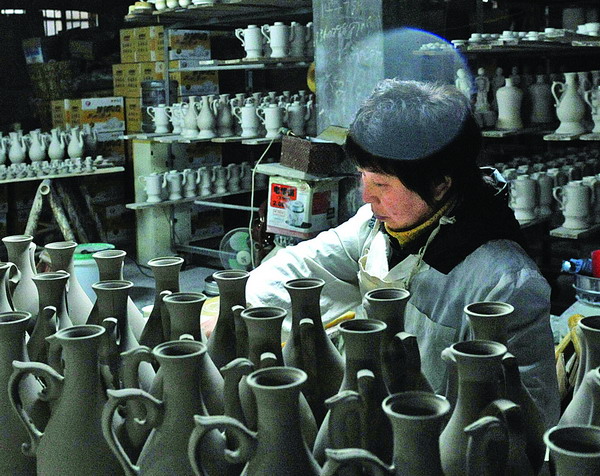 An artisan produces ceramic works in an old porcelain factory in Jingdezhen, Jiangxi province. [Photo by Zhang Wu / Xinhua]
Every Saturday, a quiet porcelain factory in Jingdezhen, China's ceramics capital, bustles with young artists selling their products.
The Letian Pottery Creative Market is held every weekend in Jingdezhen Sculpture and Ceramic Factory in Jiangxi province. It's one of several State-owned ceramics factories that sank in the tide of the country's shift to a market economy at the end of last century.
But in recent years, the abandoned factory has been revived in a different form, with young students, artists and porcelain lovers gathering there to create and sell their original ceramic works.
Whale-shaped vases, panda-motif chopsticks holders and delicate porcelain jewelry provoked wows from visitors.
"Unlike tourist souvenirs in other scenic spots, things here are very original and creative, as well as practical," says Feng Jiange, a tourist from Beijing, with his hands full of bags. Hardly anyone left the market empty-handed.
Chinese souvenirs have long been notorious for their shabby quality and lack of originality or regional features. Previous news reports have said that many Chinese souvenirs are produced in small factories in Yiwu, Zhejiang province, known as the small-goods distribution center of China, and then sent to different scenic spots, resulting in similar-looking goods with few local qualities.
However, things are changing, and the creative market in Jingdezhen is one example. Original souvenirs designed by young people and displaying local characteristics are emerging in other famed scenic spots.
In the northwestern tourist city of Dunhuang in Gansu province, famous for ancient Buddhist grottoes, a 23-year-old woman named Yang Yang opened a small souvenir stall last year selling her original hand-sketched Dunhuang maps, postcards and scarves.