Savoring food and fuss at mom's table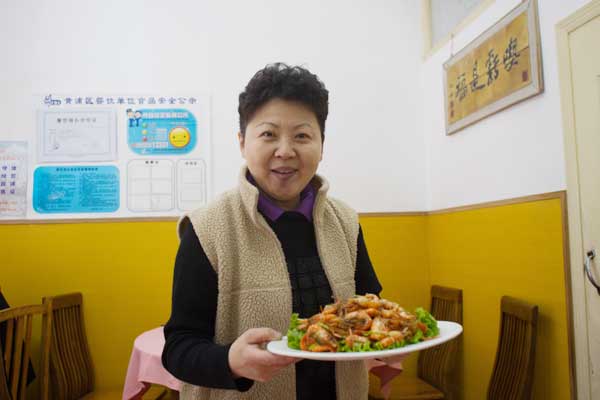 Qu Minglan, the laobanniang of Spring restaurant, is a one-woman dynamo, cooking and serving diners who come for her home-cooked food.
Believe it or not, there are people who pay to be yelled at, and stand waiting in line for hours to sit in almost ghetto-like environment for a meal. And, they all pay cash, because no credit is accepted.
But, they say, they are turning over their hard-earned cash in return for the most authentic Shanghainese cuisine in the city.
There is not a clear-cut category to place these restaurants, but they do share some common characteristics.
The dining rooms are mostly run by middle-aged Shanghainese women. Some may have lost their regular jobs in State-owned factories in the wave of opening-up and reforms of the '80s, and as a result decided to make a living doing what they do best-cooking dishes they normally serve their family.
In most cases, the dining rooms are located in the heart of the old city, in crumbling residential estates. In fact, these restaurants are often the living rooms of the cooks' family homes.
Decades after they first opened for business, these private dining rooms by the Shanghai ladies are just more popular than ever, and guests form even longer lines waiting outside the door. Often, a new generation of diners is eager to get in, including young locals who are missing a taste of home.
The food reminds them of mother's cooking, and the cost per person is a fraction of what they pay in the modern restaurants, or the cafes in the malls.
Sometimes, it's just the atmosphere they are after.
Spring
The list of unwritten rules set by the boss of this ramshackle dining room is probably longer than its menu, except there is no menu. Reservations are made by phone only. You eat what is placed before you, and you have to finish everything within an hour. The rules-and there are many-are non-negotiable.
Diners who frequent this dining room says the reward for being obedient is a meal that satisfies both stomach and soul.
For the stomach, the red-braised duck and stuffed snails are classic, bathed in the most typical trinity of sauces found in every Shanghai kitchen: soy sauce, sugar and oil. For the soul, there is the gruffly affectionate query that sends the diner off on his way: "Are you good? Have you eaten enough?" Just like Mother.
124 Jinxian Lu (Road), near Maoming Nanlu (South Road), Shanghai.
021-6256-0301.
Recommended: Red-braised Duck, Stuffed Snails.