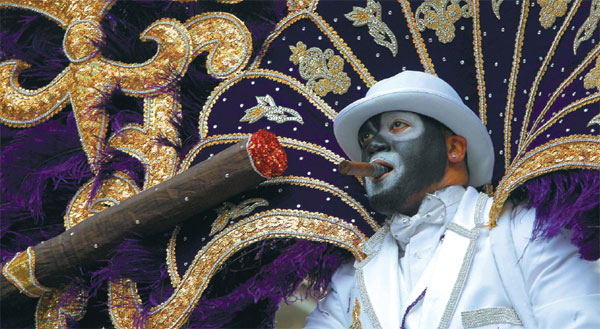 Members of the Krewe of Zulu travel down St. Charles Avenue, the main drag for the star-studded processions on Mardi Gras Day in New Orleans. Sean Gardner / Reuters
Enjoy fine dining during Mardi Gras. Stacey Plaisance looks at the gastronomic offerings along the parade routes.
Visiting New Orleans for Mardi Gras season? You'll find pizza, hot dog stands and rolling c
art
s of cotton candy galore along the parade routes, but some of the city's finest fare can also be consumed along St. Charles Avenue - the main drag for the biggest and glitziest star-studded processions of Carnival.
Some restaurants even have grandstands that put viewers at eye level with floats and just above the throngs of street revelers jockeying for beads with outstretched arms.
Herbsaint, a French bistro-style restaurant on St. Charles near the middle of the parade route, offers viewing spots for diners from its grandstands for $35 to $50, depending on the night, but also has dining-room windows fronting the route.
"I can't think of too many spaces where you can actually sit in a restaurant and have that nice bottle of burgundy, that nice meal, and then just sit there and just watch the parades go by," says chef and owner Donald Link.
"It's a neat experience."
Link says this will be the restaurant's 14th Mardi Gras, and after experimenting with buffets, special menus and scaled-back menus, what works best is the regular dinner service inside with the option of stand-viewing outside. That means the opportunity to indulge in Herbsaint standards such as duck confit and dirty rice, beef short ribs with potato cakes and gumbo - all while taking in the Carnival revelry.
"We serve our wine in the right glasses, and nothing changes," Link says.
"It's the experience you want to come here for any night of the year."
Like several restaurants, Herbsaint is closed on Mardi Gras (March 4 this year), but most downtown parades happen in the days and weeks before the holiday.
IF YOU GO

HERBSAINT: 701 St. Charles Avenue, New Orleans. www.herbsaint.com. 1-504-524-4114.

EMERIL'S DELMONICO: 1300 St. Charles Avenue, New Orleans. www.emerilsrestaurants.com/emerils-delmonico. 1-504-525-4937.

PALACE CAFE: 605 Canal St, New Orleans. www.palacecafe.com. 1-504-523-1661.

SUPERIOR SEAFOOD: 4338 St Charles Avenue, New Orleans. www.superiorseafoodnola.com. 1-504-293-3474.