Classroom-themed restaurant for nostalgic generation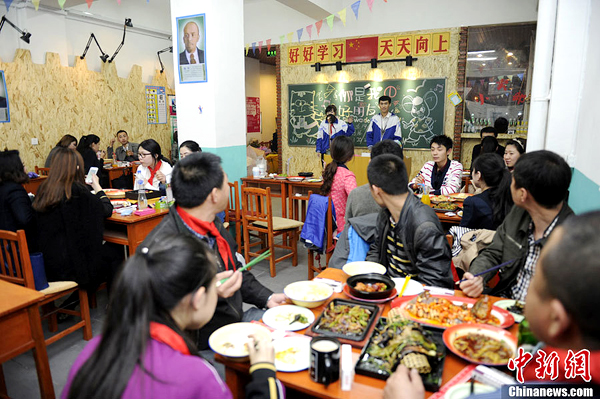 "Class meeting", which includes dance, singing and collective games in childhood, is held during the meal in a classroom-themed restaurant in Changchun, northeast China's Jilin province. [Photo/Chinanews.com]
In recent years, classroom-themed restaurants have been opened in many cities in China, such as Beijing, Fuzhou and Changchun. With blackboard, desk-like dinning table as well as childhood video games, the theme restaurant especially appeals to post-80s generation. Customers wear red scarves as if they were in primary school. Waiter and waitress are dressed like students and teachers.
Customers are given one and a half hours to enjoy meal and "class meeting" each time. When time is up, they will be asked to leave. Therefore, reservation is necessary for the classroom-themed restaurants. Customers could get a membership card when they pass the quiz about cartoon, lyrics of children's songs and shared memories of childhood.
Post-80s generation in China is always labeled as rebellious, spoiled and self-centered. They are the first generation since China's family planning rules were implemented. They grew up with no siblings and witnessed China's opening up, seeing the development right in front of their eyes. They've grown along with China's growth. Surrounded by Coca-Cola, video games and pop music, they were influenced by their parents' traditional values and at the same time experienced the technological revolution. Their circumstances made them a unique generation.