Restaurant makes short work of hiring recruits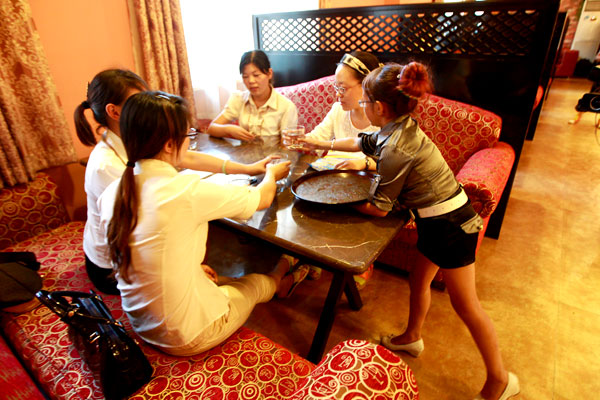 A restaurant that opened on Monday in Zhengzhou, Henan province, is owned jointly by waiters and waitresses who are 1.3 meters tall on average. Hou Jianxun / For China Daily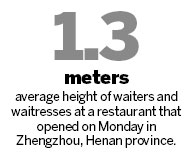 A restaurant that opened on Monday in Henan province is deliberately thinking small - the waiters and waitresses are 1.3 meters tall on average.
Located in Zhengzhou, the provincial capital, it sells Chinese and Western food, including pizza and steak.
The restaurant is owned jointly by 36 people from the Henan Happy Spirit Troupe, a performing group established four years ago whose members are below 1.4 meters in height.
Yang Qunhui, 37, head of the troupe, said 18 members serve in the restaurant, while the other 18 perform in nightclubs.
Prices are similar to those at other nearby restaurants, with a 20 centimeter sausage pizza costing 38 yuan ($6.20) and a steak costing 48 yuan for adults and 38 yuan for children.
The height of the tables has been designed to help the employees. Customers can also enjoy performances during their meals, as all the workers used to be actors and actresses.
Some five groups of customers had lunch at the restaurant on Monday, Yang said, adding that sales will be better at weekends.
Lin Baiquan, 27, a waiter from Zhumadian, a city in southern Henan, said that when he studied at middle school 10 years ago he was always humiliated and mocked by students who were taller than him.
Lin worked in Hangzhou, the capital of Zhejiang province, and also in Beijing after graduation, but he did not feel at home until he joined the troupe.
He said customers talk to the employees in a respectful way and none of them feel discriminated against any more.
Li Xiaoxiao, 22, who joined the troupe in April, said that compared with her previous work as a singer, the restaurant job brings her a stable income and a sense of dignity.
"I plan to earn more money and open my own restaurant when I am 40," she said.
Zhang Jiacheng, a 6-year-old boy who went to the restaurant for lunch with his parents on Monday, said the employees there are so polite that he will learn from them.
"The food is delicious and the waiters and waitresses are nice," he said.
The restaurant is also attracting some foreign customers. Dmitry Mikhaylov from Russia said he enjoyed the food, especially the steak.
"Short people can be found in every country and they are no different than the others," he said.
Yang said he dreams of opening chain stores and offering more jobs for people like him. "It's difficult for short people to get a job. We should support ourselves," he said.  
Wang Zhenzhen in Zhengzhou contributed to this story.
(China Daily 08/20/2013 page5)