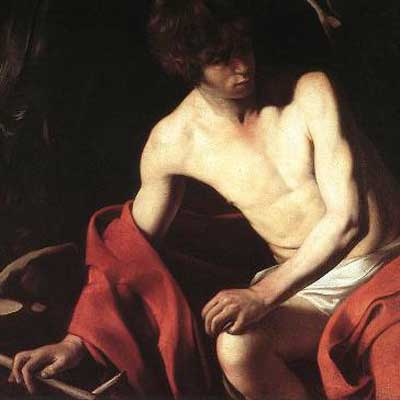 John the Baptist [Photo/www.chnmuseum.cn]
The latest art exhibition "Rome 17th Century: Towards Baroque" is the second exhibition of a five-year cooperation project between Chinese and Italian museums, and opened to the public at the National Museum of China (NMC) on Wednesday.
The exhibition highlights Rome as the birthplace of Baroque and as an art center of Italy, which later influenced all of Europe during the 17th century. The display of 50 paintings, sculptures and other artifacts, which are now making their China debut, celebrate Baroque masters such as Carracci, Caravaggio and Bernini, to name a few. The combined work has been culled from a dozen Italian museums, galleries and collector institutions including the National Museum of Palazzo Venezia and the Galleria Spada.
The exhibition will run through February 2015 and three paintings including Caravaggio's John the Baptist, Bernini's Bust of the Savior and Carracci's Portrait of a Young Man will go on display the end of July.
Thanks to a memorandum of understanding signed by the Chinese and Italian governments in 2010, a five-year-long Italian exhibition hall was set up at China's top state museum to display Italian art in an effort show the connection between the Italian city and the art style it represents. The inaugural exhibition was "Renaissance in Florence: Masterpieces and Protagonists" that ended in April.
NMC will extend its opening hours until 8 pm and admission time will end at 7 pm on May 3, 10 and 18, so that viewers can have a better visiting experience and also have the opportunity to enjoy another on-going exhibition, "Ten Masterpieces of French Painting," which has thus far been a huge hit in Beijing.