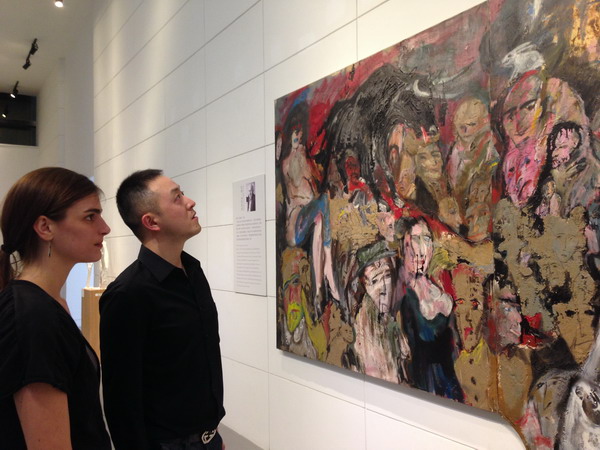 Provided to China Daily
A cultural exhibition hosted by the Ministry of Culture of China to commemorate the 50th anniversary of diplomatic relations between China and France opened at the Chongqing Art Museum on Saturday.
The ChiFra exhibition, its name derived from the first three letters of each country's name, is representative of the recognition, communication and understanding between China and France, organizers said in a press release. It is the first large-scale exhibition of works from contemporary artists of both countries in the past 100 years.
Nearly 200 artworks are on display, including oil paintings, prints and sculptures from 40 world-renowned contemporary artists from the two countries.
Olivier Vaysset, consul-general of the French consulate in Chengdu, said at the opening ceremony that, "to further promote the communication between artists from both countries, it is absolutely necessary to hold an international art exhibition in a cosmopolitan city like Chongqing. The world-famous Sichuan Fine Arts Institute is located in Chongqing, which cultivated many top painters, photographers and new media artists."
Remy Aron, president of the French Artist Association, said that holding exhibitions for artists from both countries at the same time is an open path, along which the ChiFra exhibition is the first step. "We'll follow that path all the way," he said.
As an artist himself, Aron said the perpetuation of art comes from artists' consciences. "Artists from both countries should play their roles well, to shoulder their great responsibilities and missions."
The exhibition is on its first stop in western China, and the third stop in the country after Beijing and Shenzhen. A series of other art events will be held during the exhibition, including art lectures, a wine party and an art evening. The exhibition runs until May 18.