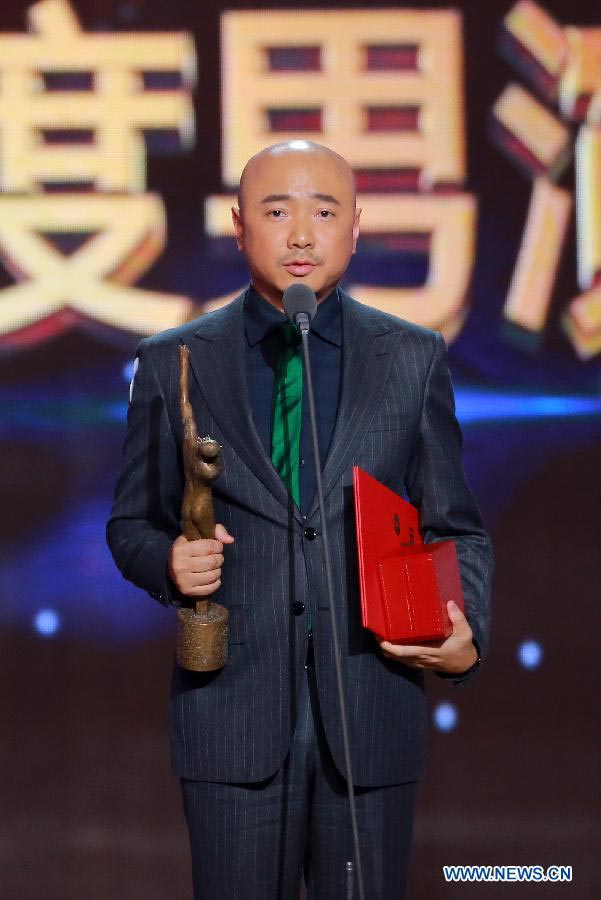 Actor Xu Zheng wins the best actor at the 2013 annual commendation conference of China Film Directors Guild in Beijing, capital of China, April 9, 2014. [Photo/Xinhua]
Declining quality leaves important film awards unclaimed
The two most important awards at the 5th China Film Directors' Guild Awards went unclaimed, jury leader Feng Xiaogang announced in Beijing on April 9.
Feng said Film of the Year and Director of the Year titles were not awarded, after careful consideration by the jury, which also included Tian Zhuangzhuang and Xu Jinglei. Nominated directors for Director of the Year included Zhao Wei for the emotional drama So Young and Ning Hao for thriller No Man's Land. Xue Xiaolu's Finding Mr Right, Huo Jianqi's biopic of writer Xiao Hong, So Young and No Man's Land were some of the candidates for Film of the Year.
"This guild is not made to entertain ourselves," Feng said. "The fact is that the quality of domestic films is declining."
Xu Zheng won Best Actor for his performance in No Man's Land, and Tang Wei took Best Actress for her role in Finding Mr Right.
Young Director of the Year was Li Ruijun for Fly with the Crane. The Special Jury Prize went to Cui Jian for the rocker's directorial debut Blue Bone.
The guild, founded in 1992, boasts 317 members, including the country's best-known filmmakers, such as Feng and Chen Kaige. The current guild president is female director Li Shaohong. The awards started in 2005.