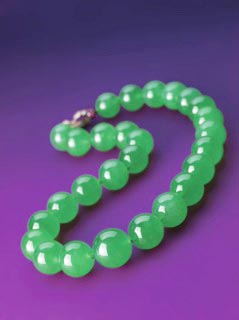 The Hutton-Mdi-vani jadeite necklace. Photo provided to China Daily
The historically important Hutton-Mdi-vani jadeite necklace fashioned out of 27 beads reputedly from the Qing Dynasty's (1644-1911) imperial court sold at Sotheby's this week for HK$214 million ($27.44 million), over double the estimate of HK$100 million.
The draw of this piece, last owned by a private Asian collector, is not only its illustrious provenance that marries Western old-money and imperial China but also the involvement of Cartier, one of the greatest jewelers in the world. Also to consider is the rarity and magnificent size of the beads (19.2 to 15.4 mm) of a consistent, even luminous, green.
"This jadeite bead necklace with a storied past is the epitome of the mysterious and captivating beauty of jadeite, the most revered Oriental gemstone, and evokes the glamor of distinguished style icons of both China and the West at the turn of the last century. It stands as the most important piece of jadeite jewelry known to the world," says Quek Chin Yeow, deputy chairman and head of the jewelry department at Sotheby's Asia.
This necklace with a circular art deco ruby-and-diamond clasp by Cartier was originally a gift from retail tycoon Frank Woolworth to his daughter Barbara Woolworth Hutton on her wedding to Georgian Prince Alexis Mdi-vani. She didn't wear the necklace at her wedding.
"Instead, she wore a pearl necklace owned by Marie Antoinette (the last queen of France) - she had choices!" says Quek Chin Yeow. Hutton first wore it publicly on her 21st birthday. A photo also shows her wearing it on a night out at the Metropolitan Opera House in New York in 1933.
Jade is a general term that encompasses jadeite, a glassy and translucent stone that comes in green, white, lavender and yellow and nephrite, a porous stone usually used for carving large vessels and figurines. For jewelry collectors, it is only jadeite that is considered gem quality and it is jadeite in deep, kingfisher green that is classified "imperial jade" and is greatly admired and coveted.
But there is "imperial jade" and there are "jadeite beads from the Qing imperial court". The gem was introduced from Myanmar to the Qing court in the 18th century and was quickly picked up by the ruling class. It was originally worn only by Qing emperors, Empress Dowager Cixi and senior officials.