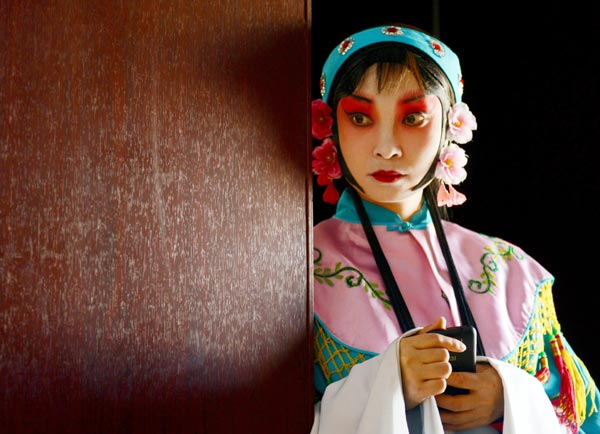 A member of Beijing Youth Peking Opera Troupe waits for her turn to perform at Shijingshan Cultural Center in Beijing. BRUNO MAESTRINI/CHINA DAILY
Liu Feng doesn't spend weekends going to karaoke bars or cinemas. Along with a dozen of his friends, the graphic designer drives for over an hour to Shijingshan district in western Beijing.
There are not many people hanging out around that area, since it is far from downtown. However, the sounds of traditional Chinese instruments, such as erhu, drums and cymbals, ring out from a small theater inside Shijingshan Cultural Center.
With several big suitcases carrying their costumes and stage settings, 31-year-old Liu and his friends arrive there at 10 am and start preparing for their performance, which starts at 2 pm.
With colorful makeup, bulky costumes and long swords, Liu and his friends stage a classical Peking Opera piece The Dragon and Phoenix Hall for an audience of more than 200
=.
After the show, they wash their faces and return to reality as ordinary young people, who work at different jobs, from a satellite engineer to a senior advertising manager.
Some experts worry that Peking Opera may die out, but younger fans like Liu have been working hard to revive it.
Together with members of Beijing Youth Peking Opera Troupe, which Liu co-founded in 2005, they have performed at the theater on weekends for two years.
"I fell in love with the Peking Opera in university, when I took a course about Peking Opera costumes. The beautiful embroidery caught my eyes," says Liu, a Beijing native. "I once bought a robe for over 10,000 yuan ($1,609). My mother said I was crazy."