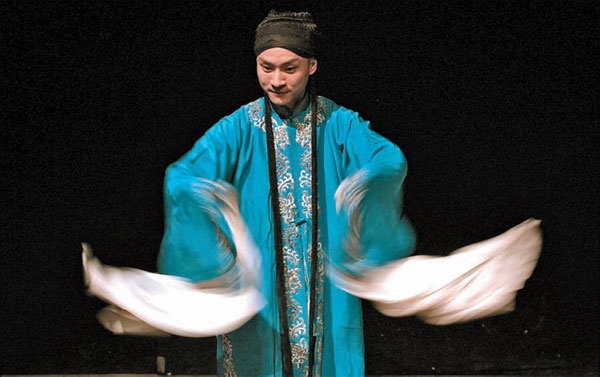 Woyzeck is a combination of Peking Opera and classical Western tragedy. Photos provided to China Daily
When Wang Xiaoxin was pursuing her studies at the Yale University School of Drama in 2006, she hoped to become an avant-garde theater director. However, she ended up being obsessed with Peking Opera.
"One day I went to the public library at the Lincoln Center for the Performing Arts. A book about Peking Opera caught my eye," Wang recalls. "I became fascinated at once: the moves, the costumes, the philosophy-everything."
Wang, who graduated from the Arts Institute of Peking University and went to live abroad in 2003, previously focused on experimental dramas. She compared Western dramas with Peking Opera and realized the beauty of the ancient art form.
"My cultural aesthetics for Peking Opera exist in my blood and DNA. I decided to return to China to learn more about it," says Wang, who later worked at the China National Peking Opera Company for five years.
She is keen to explore new possibilities for Peking Opera. In 2010, she worked with her teacher, the leading Chinese theater director Lin Zhaohua, on his Peking Opera production The Minister Liu Luoguo. The same year, her own adaptation of Alexander Pushkin's tale Fisherman and the Fish into Peking Opera was a prize-winner at the 51st International Children's Festival in Sibenik.
After a successful premiere in Frankfurt, Germany, last year, Wang's latest brainchild, Woyzeck, a combination of Peking Opera and the classical Western tragedy, will be staged in Beijing on Dec 13 and 14.