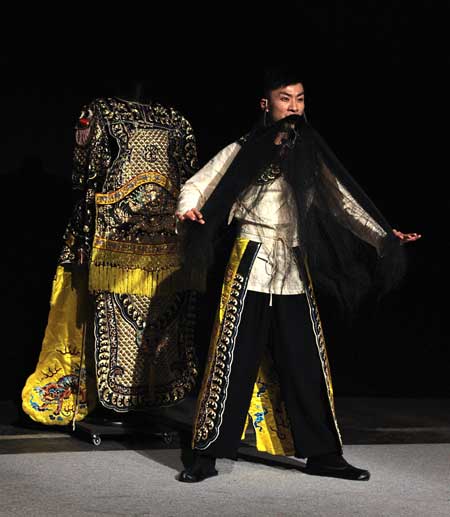 Wang Lu delivers a virtuoso portrayal of all the characters.
Written180 years ago by German author George Buechner, the drama tells of a poor and lowly soldier's oppression by different authority figures in society. Woyzeck descends into madness and murders his girlfriend.
Wang Lu, an actor from China National Beijing Opera Company, delivers a virtuoso portrayal of all the characters, almost without words, drawing upon the rich vocabulary of gestures from Peking Opera.
"Woyzeck has been interpreted in various art forms and I have watched the opera and drama versions before," Wang Xiaoxin says. "It's been my long-standing dream to bring it to the stage in the form of Peking Opera."
After starting work on the script in 2009, she invited Wang Lu to join her. She has worked with the performer many times, including in Fisherman and the Fish.
As they developed the crossover show more deeply, Wang Xiaoxin realized that she needed to step away from it, so she invited German stage director Anna Peschke.
"Because I am too familiar with Peking Opera, I felt my imagination was limited," says Wang Xiaoxin.
"To break the convention, I invited a foreign director and I believe she will give a fresh and interesting result to the cross-cultural experiment."
As a director at the intersection of theater, performance and visual art, Peschke wants to show a contemporary version of Peking Opera, which is experimental, open and tragic.