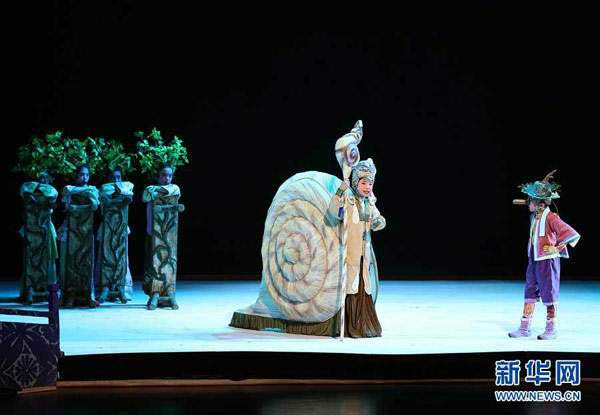 Children from Zhongguancun No 1 Primary School in Beijing stage their Peking Opera version of the Western fairytale The Adventures of Pinocchio in London. [Photo/Xinhua]
A group of Beijing pupils put a Peking Opera version of Western fairytale The Adventures of Pinocchio on the stage in London last weekend.
The 60 pupils from Zhongguancun No 1 Primary School in Beijing staged the opera in the Mermaid Conference & Events Center. It is part of a series of Lunar New Year celebrations in Britain.
The original story of The Adventures of Pinocchio, written by Italian author Carlo Collodi, was a world-renowned classic of children's literature.
Last Saturday's performance is the school's debut outside China, since it was first created in 2013.
Yue Shunli, head teacher of the school, said by combining a Western classic fairytale with a traditional Chinese art form, the new version of Pinocchio provides a way for children to return to traditions.
Extending festival greetings to the audience, Yue said she believes the Peking Opera rendition would help boost friendship between China and Britain.
The theater was full with spectators, mostly parents with their children.
Lin Ying, who watched the opera with her 2-year-old daughter, said she moved from China to Britain several years ago and Saturday's performance brought back memories about the fun atmosphere during Spring Festival in her motherland.
"It's excellent and awesome," said Curt Fahndrich, a resident of London. "We all know the story of Pinocchio, but what I like better is the interpretation."
Sam Mackover, deputy mayor of Royal Borough of Kensington and Chelsea, said he was impressed by the children's color and energy during the performance.
"People are the same everywhere in the world, but they express themselves differently," he said. "After watching the performance, it make me want to visit China, because it is a distinguished way to bring the opening China to people here."