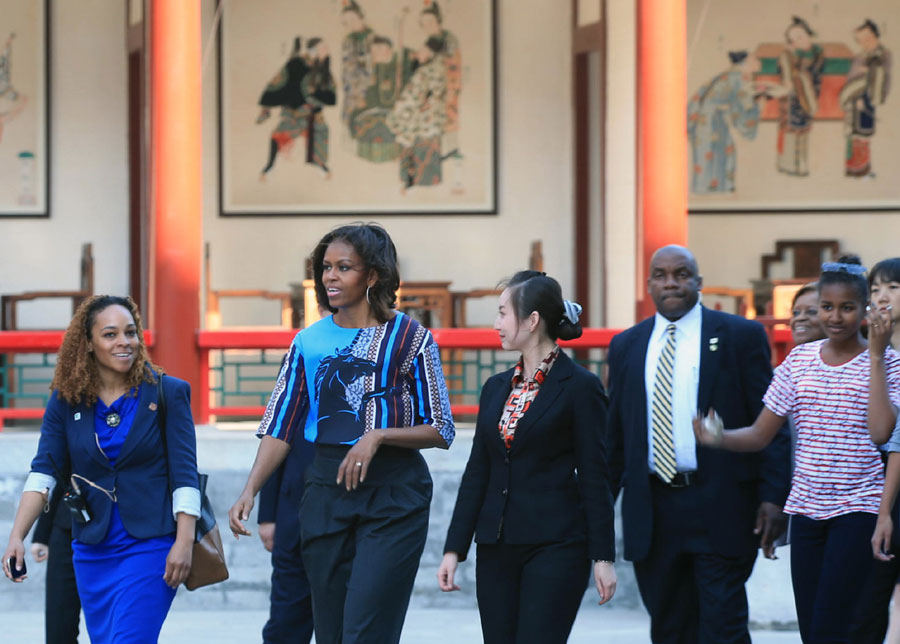 US first lady Michelle Obama (2nd L) walks with staff members as she and her daughters Malia and Sasha visit theSummer PalaceinBeijing, March 22, 2014. US first lady met her Chinese counterparton Friday, a long-anticipated encounter during a week-long trip to promote education and cultural ties.[Photo by Wang Jing/China Daily]
United States first lady Michelle Obama took time out from her China itinerary to watch a Peking Opera drama about monkeys with US students and teachers at the Summer Palace in Beijing on Saturday.
Obama and her mother and two daughters arrived at the opera stage inside the 126-year-old garden around 2:40 pm.
The students, mostly sixth to eighth graders from Thomas Middle School and Southern Middle School in Chicago, all chose Chinese as their foreign language optional course in school.
Their summer trip to China was scheduled much earlier than their Chinese teacher Brenda Hsu knew that the first lady would also visit the Summer Palace on Saturday. Hsu tried to contact the White House 10 days ago to see if they could meet in Beijing, and it was confirmed on March 19, one day before the first lady arrived.
"We are very honored to meet the first lady here in Beijing, because she has been a very active supporter and promoter of education and cultural exchange," Hsu said.
Her student, 14-year-old Mason Grabowski started learning Chinese four years ago and believes it is the language of the future.