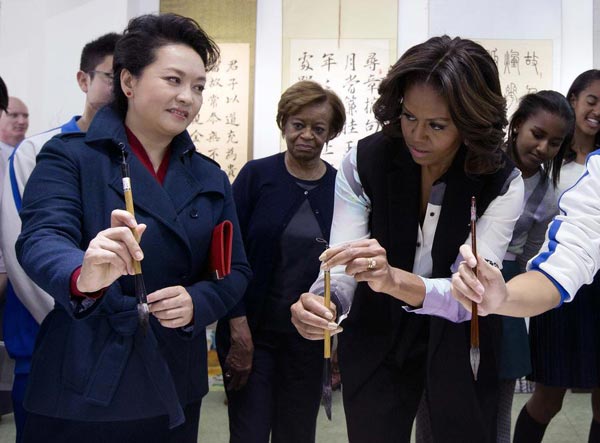 Peng Liyuan (L), wife of Chinese President Xi Jinping, shows US First Lady Michelle Obama how to hold the writing brush as they visit a Chinese traditional calligraphy class at the Beijing Normal School, a school which prepares students for university abroad, in Beijing March 21, 2014. [Photo/Agencies]
China's first lady Peng Liyuan accompanied US first lady Michelle Obama on a visit to a high school in Beijing on Friday morning, along with Mrs Obama's two daughters and her mother.
Ben Carlson, a student at the university, waited outside the Second High School Attached to Beijing Normal University, saying that as he could not see them in the US he wanted to see them here in China.
The high school was Mrs Obama's first stop in Beijing, and the two first ladies are scheduled to tour the Forbidden City and have a meal at a Peking duck restaurant.
Two US students studying at the school on an exchange program told China Daily about their encounter with the two first ladies.
Audrey Fritz said she was excited to see both Michelle Obama and Peng Liyuan, and Miller Whitehouse-Levine said he showed Obama how to write the Chinese character "Yong" (forever).
He also said that he knew of Peng as a performer and that he was happy to see her in person. And he added that she wished him good luck for his stay in China.
Christopher C. Heselton, a substitute history teacher for the two students, said the two first ladies exhibited great leadership. Heselton, who spoke fluent Chinese, believes that Obama's visit has a positive influence and may promote more American students to study in China.
Obama also showed her active side by playing a game of table tennis at the school.
Additionally, Audrey Fritz described Peng as "beautiful."