After trips Chinese President Xi Jinping and his wife Peng Liyuan made to Russia and Africa, the term "First Lady diplomacy" became a hot media topic. Professor Qu Xin from the China Institute of International Studies used three words to describe Peng on the global political stage: Calm, friendly and heart-warming. Qu believes Peng is a new representative of Chinese women, and that she has displayed the beautiful and graceful aspects of women in China.
The First Lady is a key component in a country's image. As partner of the head of state, and a representative of that country's women, she has a unique advantage in speaking for the country (with both words and actions) in diplomacy, international issues, public services and philanthropy.
Let's take a look at our editor's picks of some of the world's most memorable first ladies.
Peng Liyuan: China's first lady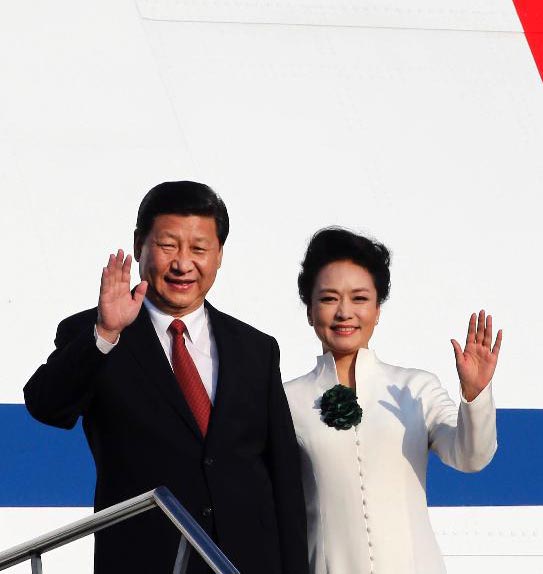 Chinese President Xi Jinping and his wife Peng Liyuan wave as they arrive at Bali, Indonesia on October 5, 2013. [Photo/Xinhua]
Peng Liyuan, wife of Chinese President Xi Jinping, first made a name for herself as a renowned singer before she became the first lady of China. Peng withdrew from the spotlight after 2007, when her husband took office as head of the Standing Committee for the Communist Party of China. Since then, Peng has devoted herself to public welfare activities and was chosen to act as Goodwill Ambassador for tuberculosis and AIDS by the World Health Organization.
Peng has also achieved several "firsts". She was the first singer to earn a Master's degree in folk vocals in China. She was part of the first broadcast of the Spring Festival Gala, a hit television program shown on the eve of the Lunar New Year. During her trip to Moscow she put her hands around Xi's arms and walked down the staircase from the airplane when the couple landed. This is was an unprecedented event for any political couple in China's diplomatic history.
"For a person's art to win the hearts of all, from heads of state to housewives, people of different cultural backgrounds, different ages and different races, it's very difficult, but I think Peng Liyuan has done just that," says Yuan Dewang, a director with China Central Television, the state broadcaster in China.