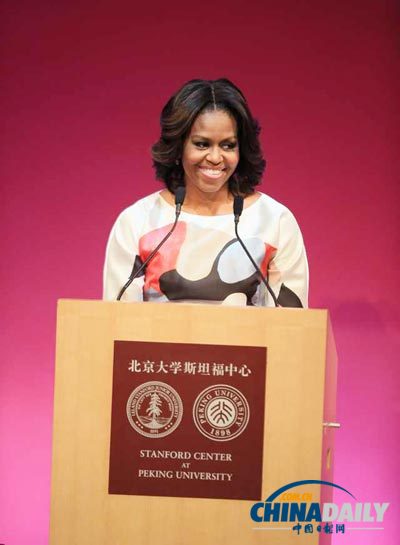 US first lady Michelle Obama gives a speech at the Stanford Center at Peking University in Beijing on March 22, 2014. Wang Jing / For China Daily
United States first lady Michelle Obama encouraged increasing numbers of young people to study abroad and called for more education and cultural exchanges between China and the US when she addressed an audience at the Stanford Center at Peking University.
Obama was scheduled to speak at 10:30 am on Saturday, but 90 minutes earlier there were already more than 100 students waiting in the venue, with many more gathered at the entrance in the hope of catching a glimpse of her.
Zhang Yun, a second year student at the School of International Studies, and Li Boning, a third-year student at Peking University Law School, arrived at 8 am. They said such a direct high-level exchange is rare and that they hoped to hear her share her views on studies abroad, science and technology and the globalization of education.
Cherise Lynn Fieldes, a US exchange student studying at Fudan University, flew from Shanghai to hear Obama speak. Fieldes said she hoped Obama would share her experiences during her academic career and how she viewed the current Sino-US relationship. The senior international studies major began studying Chinese in 2009, and modestly said her mastery of the language is "Ma Ma Hu Hu (so-so)."
Special:US first lady visits China