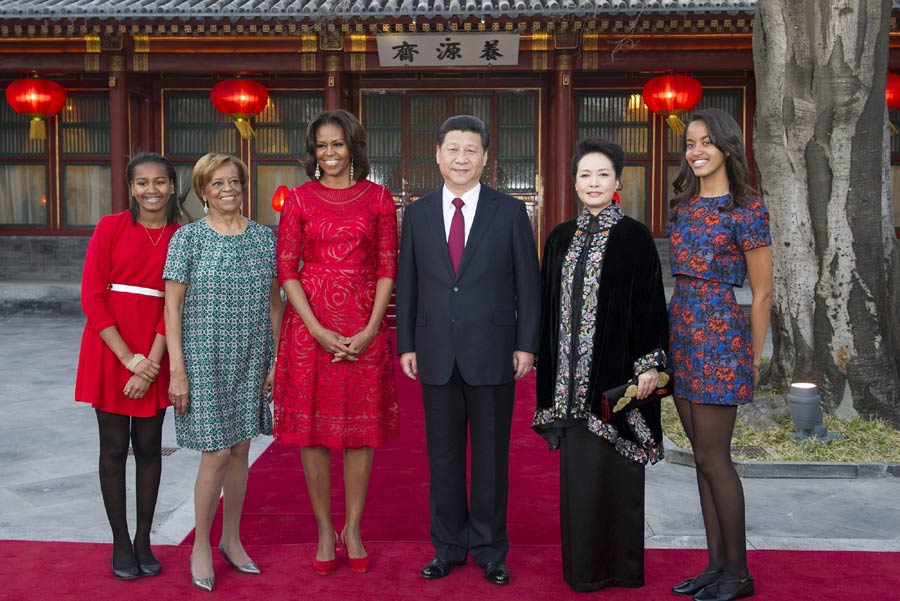 President Xi Jinping and his wife Peng Liyuan greet US first lady Michelle Obama (third left), her daughters Malia (right), Sasha (left) and Obama's mother Marian Robinson (second left) at the Diaoyutai State Guesthouse in Beijing on Friday. The Obama family is making a weeklong visit to China. [Photo/Xinhua]
Chinese President Xi Jinping on Friday said he was looking forward to a meeting with US President Barack Obama in The Hague, Holland.
The meeting on the sidelines of the Nuclear Security Summit next week will be the first between the two presidents this year.
Xi also welcomed Obama to attend the summit of Asia-Pacific Economic Cooperation (APEC) in Beijing in November.
Xi made the remarks during a meeting with the US first lady Michelle Obama, in the company of his wife Peng Liyuan, at the Diaoyutai State Guesthouse in downtown Beijing.
Noting the China-US relations were very important to both countries and the world, Xi said he cherished "the sound working relationship and personal friendship" he had already established with President Obama.
He added that they keep close communication through meetings, phone calls and letters, and believes bilateral ties would keep moving forward towards a new type of relationship with joint efforts from both sides.
Xi welcomed Michelle Obama to visit China and asked her to convey his greetings and best wishes to President Obama.
Conveying her husband's greetings to Xi, Michelle Obama said it was rare for her to travel overseas with her mother and daughters, especially to China.
She also thanked Xi for meeting her and Peng's invitation, as well as China's warm reception.
Not to Miss:
Full Coverage on US first lady's China visit