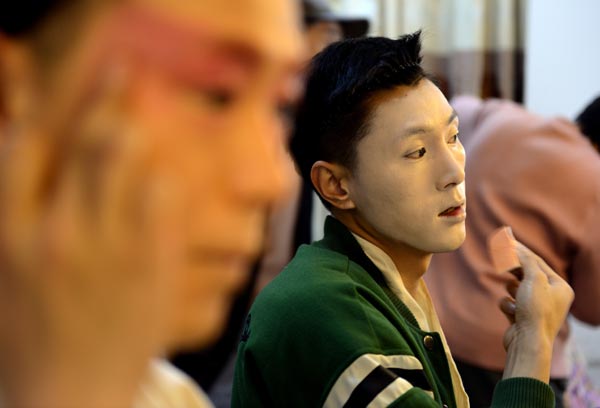 A member of the amateur troupe works on his makeup.BRUNO MAESTRINI/CHINA DAILY
He started to teach members of the Beijing Youth Peking Opera Troupe six years ago and spends three hours on the road every weekend to teach.
Though the "cultural revolution" prevented Li from making a career of his childhood passion, he practiced it every day while working in a factory.
Now, his son and daughter-in-law are performers at the Beijing Peking Opera Theater, and Li says that he is happy to continue his dream via working with young people.
"I want to teach my students the most authentic and traditional Peking Opera," Li says, scoffing at some recent efforts to give the art a modern edge with big-budget stage sets and other visuals.
"I believe that the most attractive part of Peking Opera is its original look," he says.
Liu Feng, too, seeks the art in its roots.
"Like traditional Chinese painting and calligraphy, the beauty of Peking Opera lies in its expression. It also takes time to learn it, from an eye contact to a footstep," he says. "In the beginning, it was a hobby and now we see it as a responsibility."