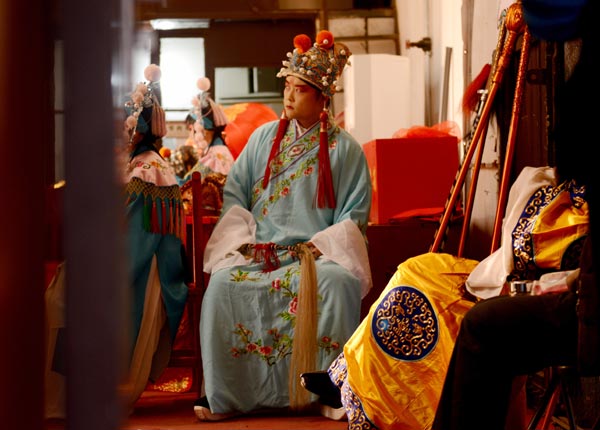 A member of the troupe waits to perform in costume. BRUNO MAESTRINI/CHINA DAILY
Celebrating the 10th anniversary of their founding, the troupe members have staged several shows at venues including the center and Chang'an Grand Theater.
"There is a generation gap in Peking Opera," Liu says. "While people in their 70s and above have strong interest since Peking Opera was a main entertainment in China decades ago, people of my parents' age, around 50 to 60, have little interest due to the 'cultural revolution' (1966-76). Now, a large number of young people, including white-collar workers and students, are picking it up."
The most fascinating part of Peking Opera for him is the traditional Chinese values and virtues told through the stories of Peking Opera, such as patriotism, loyalty and filial piety.
Liu grew up near the Beijing Peking Opera Theater, which is home to many veteran Peking Opera performers, and he would often watch them train and rehearse.
According to Li Shisheng, a Peking Opera master from Beijing, the art form is very difficult to learn. It requires a totally different style of singing and special breathing techniques. What's more, some plays require difficult actions such as doing the splits or fighting with swords or spears. Performers also have to remember hundreds of lines in ancient Chinese for each play.
"It takes much more effort for those amateurs since they have to work in the daytime," Li, 67, says.