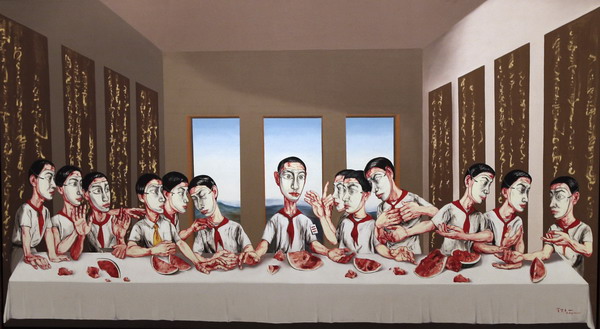 Zeng Fanzhi's 2001 painting The Last Supper sells at a record-breaking price of $22.5 million in 2013. Agence France-Presse
Last year was tough for art, with only nine Chinese artists seeing sales increases. Four artists doubled their sales, however, led by 80-year-old artist Jin Shangyi, according to the Hurun Art List 2014, released on Wednesday in Beijing.
The average sales figure of the Hurun Art List was down one-third, compared with last year, reaching only half the peak of the 2012 list.
The Hurun Research Institute, in association with Artron, China's largest compiler of art statistics, launched the list based on the sales of works at public auction in the year ending Dec 31. This is the seventh year of the Hurun Art List.
Zeng Fanzhi, 50, topped the list for best-selling living Chinese artist for the first time, with sales of 74 of his works at public auction doubling his takings from the previous year to a whopping $149 million. He ranked second in sales for 2012.
Since 2008, Zeng has consistently been ranked in the Top 10. Amazingly, Zeng overtook Qi Baishi to become the second best-selling Chinese artist of all time, behind only Chang Dai-chien.
Zeng's painting The Last Supper (2001) broke the record in 2013 for the single most expensive work sold by a living Chinese artist, selling for $22.5 million.