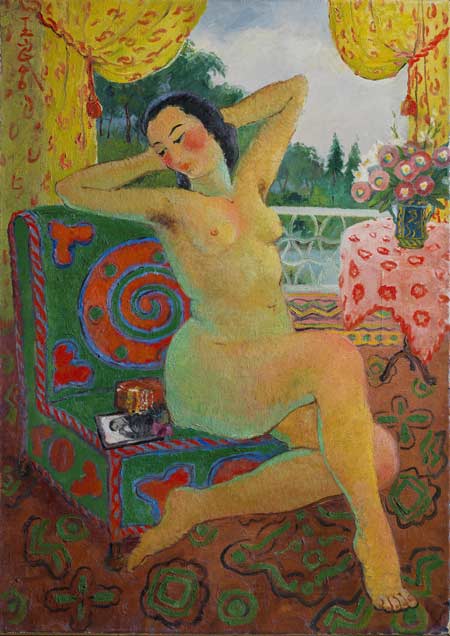 Nude by the Window by Chinese painter Pan Yu-lin. Photos provided to China Daily
Chinese painter Pan Yu-lin's iconic work, Nude by the Window, will be one of the prime attractions next month at an auction in Hong Kong.
Pan Yu-lin, also known as Pan Yuliang, created the oil painting in 1946 in Paris during her period of exploration combining Western techniques and Eastern aesthetics. She approached the nude female body, a common subject in Western paintings, with the Chinese xieyi (free brushwork) style.
Pan, who was born in 1895 and died in 1977, frequently depicted the nude female against a vibrant-colored background to advocate her own pursuit of freedom, independence and equality as a woman.
One of the first Chinese artists to study in Europe, Pan established her reputation not only for expanding creativity in Chinese art, but for her re-enactments of her life experiences, such as the unwillingness to submit to the fate of being a prostitute and her diligence in pursuing an independent art career, traits that won her respect among artists and art collectors.
Born in Anhui province, Pan was sold to a brothel by her uncle after the death of her parents at age 14. She was freed by a customs official named Pan Zanhua and became his concubine. With the support of Pan Zanhua, Pan Yu-lin entered the Shanghai Art School in 1918 and furthered her studies in Lyon and Paris. She was granted a scholarship to the Roman Royal Art Academy in 1925.
Pan then became a teacher at her alma mater in Shanghai. In 1937, she moved back to Paris and lived there for four decades.
The auction to highlight Poly Auction's Hong Kong sales will be held on April 6 and 7, with public previews from April 4 to 7.