Local brands gain momentum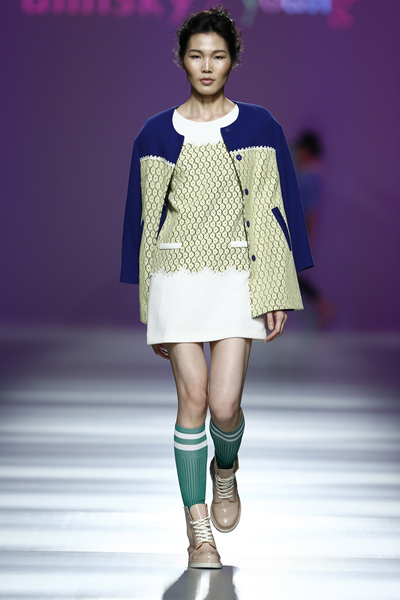 Umisky presents Young at the Shenzhen-Start Entrepreneurial Achievement Award Fashion Competition. Photo provided to China Daily
Whenever Chinese first lady Peng Liyuan makes a prominent public appearance, the spotlight also falls on the local fashion brands that she wears. Her homegrown style statement, also followed widely by foreign media, has helped raise the profile of local brands, many of them from Shenzhen, a manufacturing hub for fashion in South China.
Last month, nine Chinese brands in Shenzhen showcased their new collections to a host of well-known designers, media and fashionistas.
The event, Shenzhen-Start Entrepreneurial Achievement Award Fashion Competition, is an annual celebration of Chinese fashion labels that seek recognition in the domestic market which is dominated by Western brands. The Chinese brands include Fiyonde, Beans, Odbo, Fgfell, Umisky and its sub-brands.
Umisky presented five of its lines including Young, Umisky and Ladies, targeting different age groups. The ladies line - with tailored woolen coats and fur decorations - was a top attraction at the event.
"It presents the image of an independent woman with simple classic shapes. The fur decorations are the highlight. They fulfill the image, rather than drag it down," says Simon Gao, an up-and-coming Chinese designer who participated in the Paris Fashion Week in 2013.
Su Hong, publisher of the Chinese edition of the French fashion magazine L'Officiel, says the collection gave her a feeling of being in Paris and that she is considering using it to style characters in a Chinese TV series she is currently working on.
Fgfeel, a women's fashion label, presented its light-colored summer collection with cropped shirts and well-fitted jeans with lots of strips and lace. Models walked the ramp in a Z-shaped formation to give the audience a better view of the garments.
"The collection has a very distinct summer feel to it. However, the summer collection doesn't always have to use light colors. It can use some deep colors to highlight the light ones. Step back so the climax will be even stronger," says Meng Meng, a branding consultant who had previously worked for international luxury brands, including Hermes.
Odbo ended the show with a collection that featured black and white as the main colors. Different shades and textures were mixed to create a cool and an edgy look that came alive with the white wigs and black sunglasses worn by the models.
"The collection makes me want to reach for my camera," says Yin Chao, a leading Chinese fashion photographer. "The combination of ideas and high-tech materials is so natural and contagious."
Overall, Chinese designers these days have learned to make simple and wearable clothes, but the brands usually prefer to spend more money on expanding their retail outlets rather than building value through effective advertising, according to Su.
Last year saw a slowdown in sales in the country's fashion retail market. "At a time like this, everyone is looking for a way to survive. The sharper the branding target is, the better," says Meng.