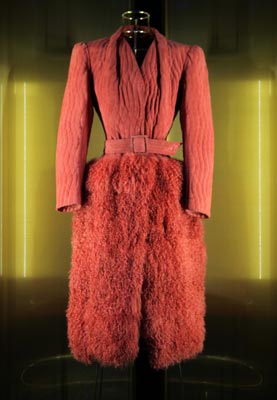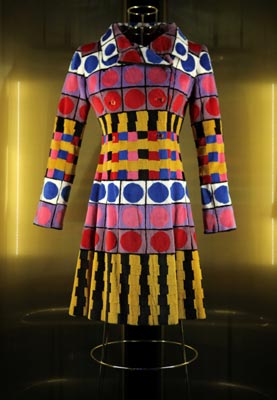 Two of the 24 Fendi fur garments, exhibited in Beijing, made as early as 1970. Photos by Wang Jing / China Daily
Who knew you could make a coat out of fur and plastic, or that a bag can come in 24-carat gold fur? In its traveling exhibition Another Kind of Art, Fendi shows these can be done - and that for decades the Italian brand has been at the forefront of fur fashion innovations.

As the company celebrates its 88th year, it chose the Chinese capital as one of the places to recount its history of art and craftsmanship. For one thing, eight is a highly auspicious number in China, being a homonym for "good fortune" in Mandarin. (In 2007, Fendi staged a fashion show on the Great Wall, presenting 88 models on a catwalk 88 meters long.)
For another, the mainland Chinese are now the world's biggest group of luxury shoppers and are quickly developing sophisticated tastes.
"As consumers mature, they like to buy not only a product but they like to buy a beautiful story," says Pietro Beccari, Fendi's chairman and chief executive officer, in an interview at its Beijing exhibition hall, itself constructed in the shape of an eight.
"An engagement with the brand and a sharing of a set of values is very important - the passion for beauty, the passion for art or the passion for the savoir faire. I think this emotional tie to a brand is more and more important today." Seeing up close the quality of the materials, as well as the skills, which go into creating pricey luxury goods also appeals to consumers' rational side, he says.
Related: