Architecture influencing fashion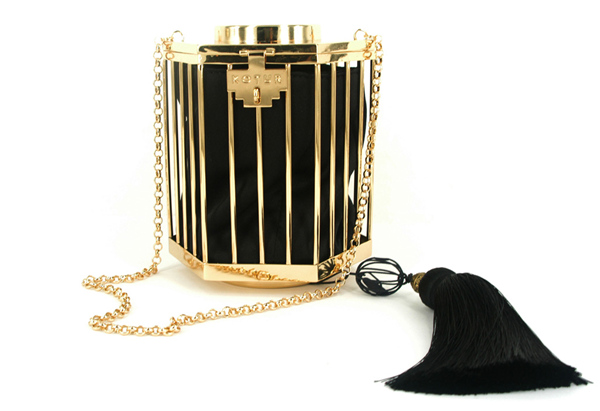 A birdcage minaudiere with a black-and-gold tassel by Kotur. Photo provided to China Daily
Architecture has become inspiration for a surprising fashion staple - the evening bag. Kitty Go checks out the latest in minaudieres.
In the emerging markets, one of the biggest trends comes not from fashion per se but from architecture, where every city is racing to build not just the highest or most luxurious buildings but also the most architecturally superior.
Architecture is fast becoming an art form that, yes, influences fashion. Two New York-based accessories designers of their eponymous labels with a strong connection to Asia have combined the inspiration of global architecture with regional influences and materials to create minaudieres sleek enough to impress Mick Jagger and launch "a new concept of day bags".
Rafe Totengco, designer and founder of Rafe New York, created his Maryanne minaudiere four years ago after seeing the Portuguese pavilion at the Shanghai World Expo. "So, in a way," he says, "the Maryanne was born in China ... And it has become an iconic design for (my) brand. It continues to be a best-seller because it is such a chameleon. I've combined it with so many different shells and materials and each time it looks fresh."
The Maryanne is such a conversation starter, "especially once placed on the dinner table", says Totengco. He relates that at the socially prestigious Metropolitan Museum Ball in New York, "Mick Jagger held the Maryanne and proclaimed it was like holding kryptonite.
"Surprisingly, men really relate to them because of the construction," he says. "They're viewed more like sculptures instead of a handbag."
He is drawn to the clean and modern lines of architecturally iconic structures. He has a Pinterest board entitled "Building a Mystery" where he pins images of inspiring buildings all over the world, from the Chrysler Building in his hometown of New York City to a detail from a Strasbourg staircase from 1928.
The Oscar and Pearce from Kotur were inspired by Zaha Hadid and are the brand's "bold, architectural statements". Designer and owner Fiona Kotur Marin always admired the superstar architect's work and finally met her two years ago.
"(I) discovered she is a lover of fashion and a collector of handbags," says Marin.
"We designed the Pearce the next day, as an ode to her."
The minaudiere, which also comes in a special-edition colorway to benefit FilmAid, was launched in Fall 2012. The special piece reflects the glamour of the red carpet, with a look distinctive enough to remind people of the cause.