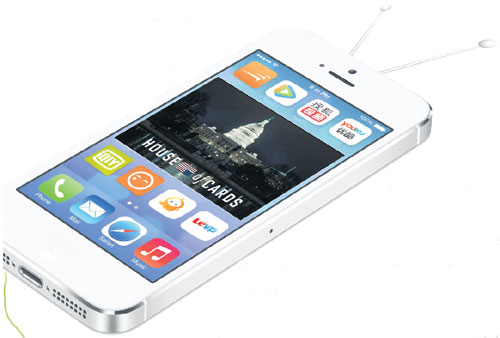 Illustration by Liu Lunan / China Daily
Online video websites are shaking up the way people watch the box, and the influx of US television shows and local websites creating their own content means traditional production companies are finding themselves challenged like never before. Han Bingbin reports.
With foreign TV series and entertainment shows as a drawing card, Chinese Internet video websites are trying harder to win over young audiences, prompting concern that traditional TV will eventually be replaced by online videos.
Inspired by the phenomenal success of US TV series like House of Cards, Chinese video websites are shifting their attention to entertainment shows.
Saturday Night Live and The Ellen DeGeneres Show have both had high-profile landings on Sohu.com, arguably China's most recognized video website for airing US TV shows.
The ongoing 11th season of The Ellen DeGeneres Show has been watched more than 20 million times on Sohu.com. Like US TV series, the talk show proves particularly attractive to young people aged between 18 and 35, most of whom are highly educated and hold white-collar jobs.
"Obviously Chinese audiences are becoming increasingly interested in Hollywood pop culture after watching American TV series," says Sohu's executive director of copyright purchasing Ma Ke. "We are trying to enrich our content so that it appeals to as wide an audience as possible."
In the coming years Sohu will increase its investment particularly in licensing American entertainment shows, CEO Charles Zhang told local media. More money will also be spent on securing the rights to screen 100 US TV series from the coming fall season, 20 of which are expected to be exclusive to Sohu.com. The view count of US TV series now takes up one-fifth of the whole website and is expected to continue to grow.
China's other leading online video company, Youku Tudou Inc, on the other hand, brands itself as a Korean entertainment hub, joining hands with South Korea's top TV stations and entertainment companies, such as SBS and CJE&M. This year alone more than 10 high-key South Korean TV series and entertainment shows, plus live concerts and celebrity shows tailor-made for the Chinese market, will be exclusively broadcast on Tudou.com.
China now has 400 million online video viewers, 250 million of whom are watching videos through mobile devices, such as smartphones and tablet computers, according to statistics from entertainment industry research company EntGroup. Thanks to the development of 4G services, the number is expected to grow rapidly in the next couple of years, especially in third- and fourth-tier cities.
With exclusive foreign content as a sure attraction to these potential viewers, video websites are also betting their future on self-made content. With growing investment, the involvement of top professionals and more stimulating subjects - online content is usually only censored by websites themselves - online programs are providing quality entertainment that directly challenges TV stations.
"Compared with licensing exclusive TV programs, producing their own content is still more cost-effective. Websites have absolute control of the content. It's thus easier for future commercial exploitation," says Zhu Wei, analyst with EntGroup.